VANDALS TRASH ATLAS CENTRE
Condemnation after mindless attack on Women's Centre
by JULIE ANN SPENCE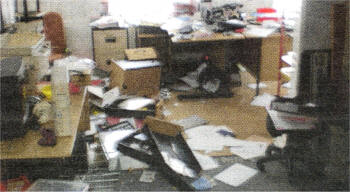 STAFF at Atlas Women's Centre were devastated when they turned up for work on Monday morning to discover vandals had wreaked havoc on the computer suite.
The centre in Sloan Street has been a hub for community training for many years, offering courses for all members of the community.
When Centre Manager Gay Sherry-Bingham arrived on Monday morning she was horrified to find her office had been turned upside down and the computers in their computer suite had been smashed.
"We don't have stock, we don't have cash and we don't have anything of real financial worth," said Gay. "Atlas Women's Centre is a place where all the family can come to chill out, meet others and learn something new.
"So why would people break in totally destroy computers, office equipment, children's toys and students paintings? These people did not break in to steal. This was a direct attempt to disturb the services and support we provide and to cause as much damage as possible." Gay has thanked everyone in the community for their support at this difficult time and said everyone connected to the centre was adamant they would not be beaten by those who set out to destroy them.
The police, the local councillors, the community and most of all our students have been a great support to us over the last few days, but really no one should have to endure this aggravation," she added.
Condemnation of the attack has come from across the entire community.
Lagan Valley MP Jeffrey Donaldson described the "wanton act of vandalism" as "devastating". He continued: "This will effect a large number 01 women who have been provided with important support and training at Atlas.'
UUP Councillor David Archer, who visited the premises, said: "I am absolutely appalled at the damage caused. This was clearly an unashamed attempt to cause as much damage as possible to the equipment in the building and to hinder the good work that the Atlas team do in the local community and further afield."
DUP Councillor Jenny Palmer has urged anyone who saw anything suspicious at the Atlas Centre to contact the Police and Councillor James Tinsley, who also visited the centre on Monday added: "I was horrified to see what happened. It is an absolute disgrace."
SDLP Councillor Matthew McDermott expressed his outrage saying: "Atlas Women's Centre is a model local group that serves the entire Lisburn community. Those who carried out this thuggish act have demonstrated contempt, not just for the women's centre but toward the entire Lisburn community"
Alliance MLA Trevor Lunn said those who carried out the attack need to be brought to justice. 'This was a despicable act of vandalism and destruction.
"What would motivate anyone to carry out an attack of this nature on such an important community facility? The Atlas Women's Centre has done much for the people of Lisburn, and the community is appalled at this incident."
Sinn Fein MLA Paul Butler also added his voice of condemnation saying: "Atlas provides a great service for Lisburn and this act of vandalism will be totally rejected by the whole community. Anyone with any information about this attack should give it to the police so that these people can be arrested and brought to justice."
Ulster Star
10/04/2009