Vintage bikes on display in Lisburn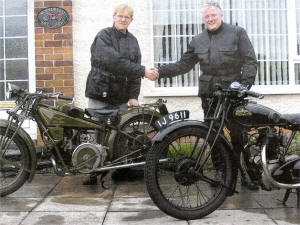 LISBURN Island Civic Centre will once again be the venue for the start of the Vintage Motor Cycle Club - Northern Ireland Section - Annual 'Lisburn Girder Fork Run', which will take place on Sunday, May 3 at 10.00am. It is anticipated that a large selection of the famous Yorkshire built Scott motorcycles will attend, as depicted on a Lisburn Council sponsored lapel badge which will be presented to each participant and helper.
Along with a varied selection of pre-war models, names that recall the once world famous industry, the Club's Secretary Robert Bryson from Finaghy will bring his 1929 Rudge for the first time and David Crawford from Lambeg will be aboard his 1928 Moto Guzzi.
After close inspection of all the machines, Lisburn Mayor, Councillor Ronnie Crawford will present the Silver Cup to the machine He would most like to take home.
Starting with a tour of the City, the old motorcycles will continue on a leisurely ride towards Lough Neagh for a picnic and welcome refreshments provided by the club's Catering Corp.
Everyone is welcome to view the machines.
Six of the Club members riding their vintage motorcycles have also been invited to take part in the Mayor's Parade on Saturday May 9. For further information contact Club Chairman Norman Clements on 28278384.
Ulster Star
01/05/2009