Visteon workers bring protest into Lisburn
by JENNY MONROE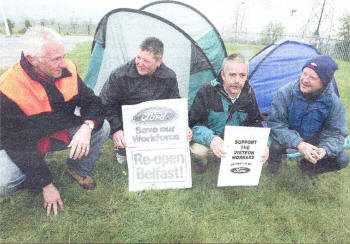 PROTESTERS who lost their jobs with the closure of the Visteon factory in Finaghy have picketed the Ford showroom in Lisburn as the dispute goes into a third week.
The 200 Visteon staff say that Ford, who transferred the Finaghy plant to Visteon in 2000, had pledged their terms and conditions would not be affected by the switch. Now, they say, they want Ford to fulfil that obligation by paying the redundancy and pension rights they have built up over the years.
Talks were held in London on Wednesday to resolve the dispute at the three Visteon sites in the UK AS workers in Finaghy, Basildon and Enfield have continued their protests.
However, union officials said the talks had broken down on Wednesday night with 'a very poor offer from Visteon.
Roger Madison from Unite said: "It falls well short of what we were expecting and we were demanding."
Mr Madison said he was meeting with Ford representatives on Thursday.
A Lisburn man who was among the protesters at the Market Place showroom said that the whole focus of the protest was to get the local plant re-opened.
He commented; "The Plant Convenors were told they would have to wait outside while the talks were held and this is not good enough. We wanted to highlight our dissatisfaction by holding the protests."
He said the workers who have occupied the Finaghy plant since the closure was announced have received a summons to vacate the premises by April 21 or face court proceedings.
"There's not a chance," he said.
Nearly 600 jobs were lost at the three plants - 210 in Belfast - with staff being given less than an hour's notice.
Ulster Star
17/04/2009