Waitangi Day takes place Lisburn style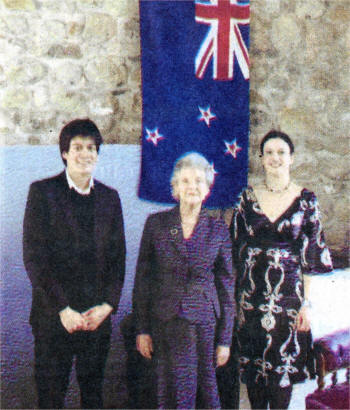 THE Ulster New Zealand Trust celebrated Waitangi Day at the Ballance House in Glenavy last week (February 6).
Waitangi Day became a national holiday in New Zealand when on February 6 1840 representatives of the British Government and the Maori chiefs of the North Island of New Zealand signed the Waitangi Treaty which recognised the Maori ownership of their lands and gave them rights as British subjects as well as establishing a British Governor of the colony.
Last week, at Ballance House members of the Trust and their guests assembled for a special lunch to celebrate Waitangi Day which was preceded by a reception hosted by the trusts chairman Mrs Jill Mclvor CBE.
Special guests were Lisburn Mayor Ronnie Crawford and two musicians who came specially from London - award winning soprano from New Zealand Madeleine Pierard and pianist James Ballieu from South Africa, both of whom have played worldwide. Both are prize winners with the Royal Overseas League in London.
Maori
Madeleine sang the first verse of the New Zealand National anthem in Maori at the event which 40 people attended and there was a recital afterwards given by Madeleine and James in the Cottage Room.
After lunch there was a ballot and then Madeleine sang arias from several of the worlds best known composers accompanied by James.
Ballance House is at 118a Lisburn Road and is the birth place of John Ballance who became Premier of New Zealand from 1891 to 1893. The House highlights his career and also the impact of other settlers from Ulster who played such a vital part in the development of New Zealand. The house has a large room which can be hired for conferences or meeting or simple lunches and other refreshments. For further information ring 92-648492.
Ulster Star
13/02/2009