Wallace principal to retire this summer
`It's been a privilege' says head of school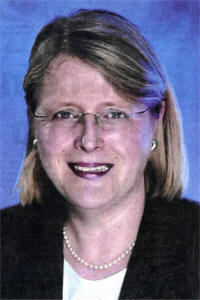 THE Principal of Wallace High School, Mrs Anne McBride, is to retire in August.
Mrs McBride, who was appointed Principal of the Clonevin Park school in September 2000, was educated at Gilnahirk Primary and Strathearn School in Belfast.
Following a degree in French and German at Queen's University she started her teaching career in Banbridge Academy and went onto Victoria College where she became Head of Careers and then Vice Principal.
Mrs McBride said she had 'hugely enjoyed' her time at Wallace. "I am privileged to be Principal of such a great school" she said.
Mrs McBride also said she was 'proud' of the school's impressive achievements at GCSE and A level each year, "not just in terms of examination results, but in the achievement of personal bests by individual pupils.
"The standard inspection of 2007 commented on the very caring and supportive ethos of Wallace, as well as the diligent and responsive pupils and the hardworking and committed teachers. I would also like to pay tribute to our dedicated teachers and governors, and of course our supportive parents who attend so many school events.
"During my time here there has also been agreement by all members of the school community on the core values of the school —commitment, opportunity, respect, excellence.
"It has been very exciting to see an expansion of the curriculum to include applied subjects such as Journalism and Moving Image Arts and a collaboration with Friends' School in offering an increased range of subjects. We welcome the opportunity to collaborate further with our colleagues in the local schools." Mrs McBride said the extra curricular life of the school had been 'rich and varied'.
She highlighted the sporting successes, the music and art and the many outside events in which the school participated.
"The generosity of our school community has impressed me, with many innovative fundraising events for charity Mrs McBride said..
"It's lovely to see our younger pupils enjoying
the wonderful new facilities of our Prep playground, and it was great to see the care shown for our buildings and grounds was recognised with the presentation of the Best Kept Large School Award in the SEELB in 2008.
"In short, the vibrant daily life of Wallace High School makes it a very rewarding place to work."
Looking to the future, Mrs McBride, commented:
"There are many challenges ahead in education and I know that the school is well equipped to manage these challenges and move ahead purposefully.
"We take our pupils from a wide area geographically and from a large number of primary schools, and it is that mix of children from many different backgrounds that gives Wallace its distinctive ethos.
"The good relationships enjoyed in the school and the pastoral support provided mean that pupils are confident in fulfilling their potential. We are proud of our examination results and academic traditions and look forward to maintaining that ethos.
"It's the people who make a school and it's the pupils and staff who make Wallace the distinctive place it is today - a caring community in which individuals have a real sense of commitment to high standards. I know that Wallace will continue to go from strength to strength and I will watch its progress with great pleasure and pride."
Ulster Star
27/02/02009