Lisburn's first children's storybook to tell the Wallace story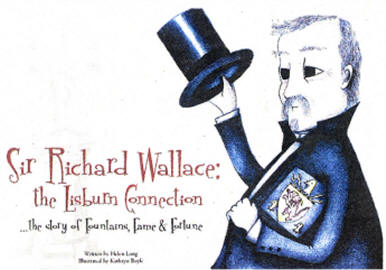 A NEW children's storybook, 'Sir Richard Wallace: the Lisburn Connection... the story of Fountains, Fame and Fortune, based on the story of one of Lisburn's most notable historical figures. is to be launched at a special event in Wallace High School next Thursday.
Our Past, Shared Future' is the highlight in a year-long programme of activities organised by the Richard Wallace Trust and funded by Awards for All to raise awareness of the historical significance of Sir Richard as a landowner, MR benefactor, philanthropist and art collector.
The storybook has been commissioned by the Richard Wallace Trust and is the first ever children's book based on Lisburn's historical past. It is written by ex-Wallace High School teacher Helen Long and illustrated by artist Kathryn Boyle. Both Helen and Kathryn collaborated with P7 pupils from Wallace Prep Department to produce the narrative and a series of beautiful illustrations, to tell the story of one of the most important figures in the history of Lisburn.
Our Past, Shared Future' next Thursday sees the launch of the book along with a drinks reception, live' music, Victorian era fashion show and display of some of the work produced by the P7 pupils, all hosted by a special guest from London and followed by a buffet supper.
Anthea McWilliams Chair of the Richard Wallace Trust, said "This event promises to be an evening to remember with society, sights and sounds of 19t1' Century Lisburn London and Paris involved and even a very special guest from London who audience members may recognise.
"It is such an exciting time for the Richard Wallace Trust with the publication of our first book which I hope will charm and delight both children and adults alike, as well as inform many Lisburn folk about Sir Richard Wallace's significance in our city's past."
The first copies of the storybook will be available at the launch event and anyone interested in receiving a copy is encouraged to attend this free event as demand is expected to be high, with just 1000 copies available on a first come first served basis. The event is open to both adults and children and is free of charge, with entrance by ticket only as places are limited.
Tickets are available to anyone on request from Anthea McWilliams on 9266 3179 or by email to rwallacetrust@aol.com.
julieann.spence@ulsterstar.co.uk
The front cover of the new Sir Richard Wallace book.
Ulster Star
20/03/2009