Watch the sun go down and Galway play
Famous flautist tops the bill at 400th anniversary concert with the BBC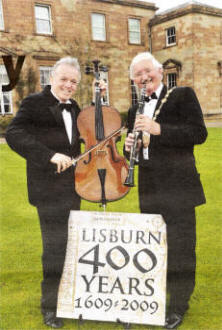 THE world famous flautist Sir James Galway is coming to the grounds of Hillsborough Castle to perform in BBC 'Proms in the Park' on Saturday September 12 as part of Lisburn's 400th anniversary celebrations.
Picnic hampers, big screens and spectacular lighting displays will all be part of the three-hour classical extravaganza which will be hosted by BBC Northern Ireland's Noel Thompson. The Proms in the Park, which has been developed with support from Lisburn City Council and NS&I, will feature performances from world-renowned flautist Sir James and Northern Ireland's very own Ulster Orchestra.
The huge event will be one of the highlights of the City Council's 400th Anniversary Programme of events which have been planned throughout 2009.
These will include a historically themed Mayor's Parade, a Spring Festival of events in May, an exhibition at the Irish Linen Centre and Lisburn Museum on 17th Century Lisburn, a children's event in Wallace Park, a photography competition and exhibition and a programme of enhanced sporting events.
Speaking at the launch, the Mayor Councillor Ronnie Crawford said: "We are delighted to have secured the prestigious 'BBC Proms in the Park as our main 400th Anniversary event and I would encourage everybody to get their free tickets for this every special occasion.
To celebrate our 400 years we wanted to put together a programme that would give all our residents, young and old the opportunity to become involved and we will continue to look at ways in which we can do this," he said.
"It is especially fitting that, in this 400th year, our City will represent Northern Ireland in the BBC's 'Last Night of the Proms'.
"With the stunning backdrop of the magnificent Hillsborough Castle and its grounds, what better showcase for Northern Ireland and our 400th Anniversary celebrations can there be," he concluded.
* Complimentary tickets for this year's BBC 'Proms in the Park' in the grounds of Hillsborough Castle will be available from Monday June 1 by logging on to www.bbc.co.uk/ni/tickets or by phoning 0870 901 1227.
julieann.spence@ulsterstar.co.uk
Ulster Star
17/04/2009