Water fantastic way to make a difference
by STACEY HEANEY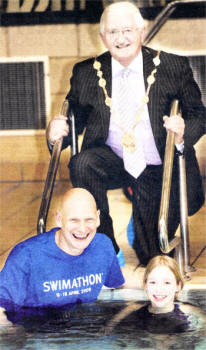 Why gold medallist Duncan is hoping for a recession busting response from Lisburn
OLYMPIC gold medallist Duncan Goodhew has told of the very special reason he is hoping for a recession busting response to this year's Swimathon appeal.
Duncan, who was in Lisburn this week to launch April's event, explained he was hoping for a massive turn out at the event, which will raise money for Marie Curie Cancer Care, because of his own family's experience of the illness and the wonderful work of the Marie Curie nurses.
"When I first helped cancer charities, specialists had seven minutes to tell a person they had cancer. Today they have little more time and it falls on specialist people like Marie Curie nurses to pick up the bits and support people" he said.
Describing Marie Curie nurses as "very special people', Duncan continued: "My mother and mother-in-law both died from cancer. My mother-in-law passed away at home and without the support from the Marie Curie nurses it would not have been possible to have that dignified final stage of life.
"The nurses are nothing short of brilliant." While here, Duncan gave a group of Lisburn swimmers some top tips at a special a training session in Lagan Valley LeisurePlex.
And he is hoping the pool will be packed from April 16-19 with local people taking part in Swimathon 2009, the world's largest fundraising event.
Duncan said Swimathon, which is now in its 23rd year, is a "unique" event because anyone with any swimming ability can take part. "You can go down as a family or with friends of different abilities and make up a team. I swam with Daniel, who is five, and he swam one length whilst the parents swam the rest. You see families taking part and the kids will remember it for the rest of their lives" he said.
Swimathon has raised over £30 million for different charities over the years. Last year's event raised over £12,000 in Lisburn, with local fundraisers being amongst the top in the UK. And despite the current economic gloom, Duncan is hoping local people will once again support such a worthwhile cause.
Challenge
"We are hoping to raise £1.8 million," he said. "I know it is difficult at the moment but we hope people will rise to the challenge and raise what is needed." Speaking about his love for swimming and the joy those taking part in Swimathon can find, Duncan said, "Sometimes in life you find something really special and swimming is that for me. To see people use my sport to get fit and raise money for worthy causes is fantastic. "When we first started we were trying to get people fit, to get them swimming through the winter. We raised £680,000 during the first one and suddenly realised it would not only be fantastic for swimming but also something to help communities. The money raised locally will help local people. Money will also go towards the Swimathon Foundation, which puts money back into swimming and local pools can apply for grants.
"We as human beings love the water, it is such an incredible experience and when you are in the water it is like being in a different world. Swimming is the best escape from real life you will ever get."
Commenting at the launch, Lisburn Mayor Councillor Ronnie Crawford said. "The Marie Curie Cancer Care organisation provides, free-of-charge, the highest standards in nursing care to the terminally ill, and the Lagan Valley LeisurePlex will certainly do all it can to help raise as much money as possible."
Councillor Brian Heading Chairman of the Leisure Services Committee added: "I am delighted the Lagan Valley LeisurePlex has been chosen once again as a 'Super Pool' to host the Swimathon."
Swimathon 2009 is open to everyone and people are encouraged to set their own personal challenge by accomplishing a distance of their choice. Swimmers can go for the ultimate 5K challenge, 2.5K for the intermediate swimmer or 1.5K for those who swim occasionally. For those interested in joining forces with friends, colleagues or family, the 5K challenge can also be completed as part of a team of up to five people.
To find out more about Swimathon or sign-up for the 2009 challenge visit www.swimathon.org.
Lisburn Mayor Ronnie Crawford with Duncan Goodhew and Local Swimmer Samanthya Bird at the launch of the Lisburn Swimathon at Lagan Valley Leisureplex. This year's Swimathon is in aid of Marie Curie Cancer Care. US0609-110A0 Picture By: Aidan O'Reilly
Ulster Star
06/02/2009