Weekend storms cause havoc and power cuts
by JULIE ANN SPENCE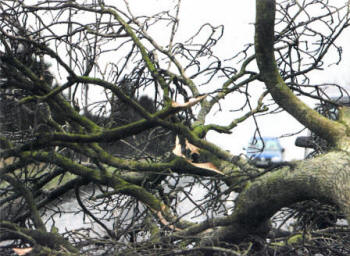 SEVERE storms caused havoc across the Lisburn area last weekend, with trees being felled and thousands of people being left without electricity.
Warnings had been issued that storm force winds of over 70mph would be battering the Province and Saturday afternoon saw the worst of the damage being caused.
Over 20,000 customers in the are experienced black-outs on Saturday, as storms caused damage to the electricity network. Some of the worst hit areas included Hillsborough, Glenavy, Ballinderry, Magheraberry and rural areas of Carryduff. However, according to Northern Ireland Electricity, the majority of customers had their supply restored by Sunday morning. Damage caused by flying debris and high
winds, including trees falling on electricity lines and damage to poles and other equipment made conditions very difficult to work in. The timing of the storm also meant a large proportion of faults had to be repaired in dark conditions.
Over 400 additional Northern Ireland Electricity engineers, call handlers and administrative staff were brought in to reinforce NIE's effort. An additional 30 linesmen were brought over from England to bolster resources on Sunday.
A spokesperson from Northern Ireland Electricity said: "Lisburn, Downpatrick and Craigavon bore the brunt of Saturday's storm force winds. Northern Ireland Electricity's two local incident centres in these areas restored power to around 20,000 customers over the weekend.
As soon as we received the storm force weather warnings, we put our escalation procedures into operation. We were able to respond to this event quickly and efficiently. "We have heavily invested in our network during 2008 and our systems have been thoroughly tested, but we have to recognise that a mainly rural overhead network will always be vulnerable to severe weather conditions like those which occurred this weekend."
Ulster Star
23/01/2009