Dundrod brothers do battle for prestigious Welsh title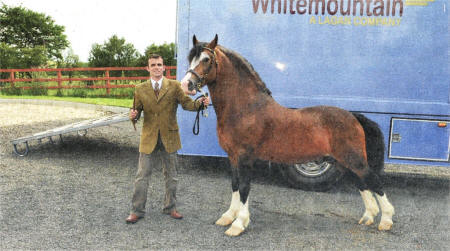 David Cleland from the Stud in Dundrod.
TWO Dundrod brothers with over 30 years experience in breeding Welsh Cob horses are off to Wales this week to compete for the most prestigious award in the world of Welsh Cob breeding.
David and James Cleland from the Budore Welsh Cob Stud in Dundrod are believed to be the only breeders from the island of Ireland competing this week (July 20-23) for the Prince of Wales Cup at the Royal Welsh Show in Llanelwedd. The cup attracts competitors from some of the most famous studs in the British Isles with the winners being crowned Champion of Champions.
Discussing their chances for success, David Cleland said:
"We have had a very successful run up to the Royal Welsh Show, picking up numerous prizes at other shows with our Welsh Cobs 'Blaze of Glory', 'Bonheddwr' and 'King Flyer'. The Prince of Wales Cup, however, is the pinnacle in our world and to pick up a prize would show that our local stallions can compete with the best in these islands.
"Training horses is a costly and time consuming exercise and while for my brother and I it is a labour of love, we are very appreciative of the sponsorship we have also have received from Whitemountain Quarries Ltd over the last two years. Their financial support has been vital and enabled us to keep competing in these difficult economic times with rising fuel and feed costs."
He added: "The Royal Welsh Show is an opportunity for us to demonstrate the very best of what we have to offer and I am confident that our three stallions will do Northern Ireland proud." The Royal Welsh Show is organised by the Royal Welsh Agricultural Society.
Further information about the Cleland Welsh Cob Team can be found at
www.budorewelshstuds.blogspot.com
Ulster Star
24/07/2009