From the Wild West to the First World War
by JULIE ANN SPENCE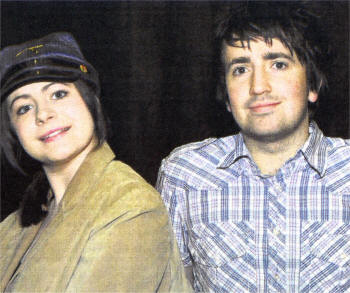 ASPIRING Lisburn actress Niamh McGowan needs a time machine to travel from the Wild West, where she is starring in Fusion Theatre's production of Calamity Jane, to the Great War where she has her first professional acting role in the Bruiser Theatre Company production of 'Oh What A Lovely War.
It has been a very exciting time for Niamh, who has been auditioning for several drama schools over the last few weeks. As well as rehearsing for the popular musical, Calamity Jane, in the title role forever associated with Doris Day, Niamh has already been offered a place at Academy for Live and Recorded Arts (ALRA) in London to begin professional training in September 2009 and is also awaiting the outcome of various other auditions. The Fusion show opens next week, running from Wednesday January 28 to Saturday January 31 in the Island Hall, whilst the Bruiser production visits the Studio in the Island Centre on Friday April 24 for one night only.
In between times, Niamh will be rehearsing with Bruiser Theatre then joining them in their tour of various theatres throughout the
length and breadth of Ireland, from Londonderry to Limerick and from Enniskillen to Wicklow. Niamh recognises the part that Fusion Theatre has played in her career choice, from early beginnings as The Tin Man in the 2003 production of the Wizard of Oz, to playing the wretched Fantine in the 2008 production of Les Misérables. She is also an active member of Ulster Operatic Company, having played the part of Anybodys in their recent production of West Side Story in the Grand Opera House in Belfast, as well as being a member of the prestigious National Youth Theatre in London.
Calamity Jane is the much-loved musical which features 'Windy City', 'The Deadwood Stage' and 'Secret Love'. It has something for everyone; comedy, drama, lovely music and romance. Niamh and the rest of the Fusion Theatre cast will be performing in the Island Hall from January 28 — January 31, though tickets are selling fast and Fusion Theatre predict a sell-out. Tickets, priced £8-12, are available from the Island Arts Centre Box Office on 9250 9254 or online at www.tickets.lisburncity.gov.uk.
Ulster Star
23/01/2009