William's marathon effort to help injured friend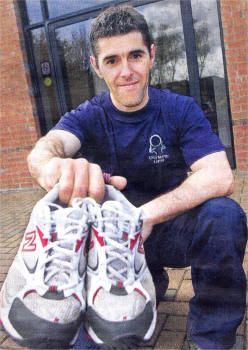 A DROMORE man whose friend was left disabled in a work related accident is planning to raise money for a spinal injury charity by running the Belfast Marathon.
William Halliday (37), who works for Olympic Lifts in Lisburn, will be pounding the streets on May 4 to help raise money for Aspire, a group which helps disabled people with their rehabilitation.
William's friend and ex-work colleague • Sharron Small, 44, from Lisburn was paralysed last September when she was trapped when a huge trolley which crushed her spine at a bakery where they both worked.
After an operation, which removed part of her spine, Sharron spent many weeks recovering at the Belfast City Hospital and Musgrave Park Hospital.
She was given encouragement from specialists at Aspire and has become so involved in sport that she took part in the Spinal Games in England this week.
William said: "She and I worked in a bakery together, but I left months before the accident. It just goes to show how a split second incident can change your life.
"I know since the accident Aspire has helped Sharron and given her a lot more confidence. Ironically Sharron was never sporty until her accident."
When William heard about his friend's amazing courage in fighting back so strongly he decided he wanted to do something to help. "When I heard what she was doing I just thought, well if she can do the Spinal Games then I can do something."
William began his training a few months ago and at this stage even has a lunchtime fitness regime with his work colleagues where he puts them through their paces and goes for a run.
He does a five mile run and a 19 mile run at the weekend, often with fellow runners Caroline Boyd and Wendy McGregor. "Sharron was over the moon that I am doing this," said William. "She benefited greatly from the Aspire independent living officer who helped her with her rehabilitation. As the charity has done so much for Sharron I wanted to give something back to them for their amazing support. It's a lifeline for people who have suffered from a spinal injury."
Aspire's Community and Events Fundraiser, Andrew Ogierman said, "This is going to be a really tough challenge but the money William raises will go towards helping people with a spinal cord injury lead a more independent and fulfilling life. Aspire is privileged to have such a dedicated and inspiring person supporting its cause". To make a donation contact Andrew Ogierman at Aspire on 8420 8951 or by email at andrew.ogierman@aspire.org.uk. Sponsor forms have also been left at Olympic Lifts, Dromore Leisure Centre and Helen McFaddens public house in Dromore
Ulster Star
24/04/2009