Plans underway to honour Lisburn's forgotten VC hero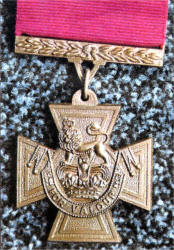 AN investigation into the background of Samuel Hill, the Glenavy man who won the VC during the Indian mutiny, has led staff at Lisburn City Council to discover another local soldier who also won the highest honour for military gallantry, with the Royal Engineers during the Crimea campaign in 1855.
He is William James Lendrim from Lisburn and now the Mayor, Councillor Ronnie Crawford, is keen to hear more about this unsung hero. Mr Crawford is also keen to discover if Mr Lendrim has any remaining family in Lisburn.
William James Lendrim enlisted into the Royal Sappers and Miners in 1845, aged 15, as a bugler. After the Crimean War he was posted to 23rd Company which was diverted from a posting to China to tackle the Indian Mutiny in 1857.
He was at the relief of Lucknow and on his return to England eventually became a sergeant major of field works at the Royal Military and Staff Colleges. Sergeant-Major Lendrim also held the Legion d'Honneur and Medal Militaire of France.
He was presented with his Victoria Cross by Queen Victoria at Hyde Park on June 26, 1857. He was recommended for intrepidity for getting on top of a magazine and extinguishing sandbags which were burning, and making a breach under fire on April 11, 1855. He was also recognised for courage and praiseworthy example in superintending 150 French Chasseurs, on February 14, 1855, in building No 9 Battery, and replacing the whole of the capsized gabions under a heavy fire. He was one of four volunteers who destroyed a rifle-pit.
Mr Lendrim is buried at the Royal Military Academy Sandhurst Grave and his VC is currently on display in the Royal Engineers Museum in Chatham. Lisburn City Council intend to explore the possibility of borrowing Mr Lendrim's VC to display in Lisburn Museum.
"If anyone has information of any families of this name who have lived in the Lisburn area in the last 150 years, I would be delighted to hear from them," said Mr Crawford.
"I am delighted that this news has come to light after all these years as these are the only two men from this area to have won this coveted medal, out of all the 188 recipients from the island of Ireland."
If you have any information about William James Lendrim contact Julie-Ann Spence at the Ulster Star on 926791 I 1 or email julieann.spence@ulsterstar.co.uk.
Ulster Star
06/03/2009