Woolworths closes it doors for last time
by JULIE ANN SPENCE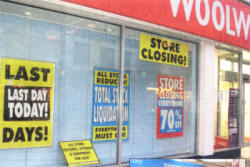 IT was the end of an era in Lisburn this week as Woolworths closed its doors for the final time in Bow Street.
The local branch of the department store has been a landmark in Lisburn for decades and on Tuesday, December 30 the shutters were pulled down and the tills fell silent.
The 'last day' poster in the window reflecting sadly a sign of the times with big brand names each week announcing trading difficulties.
"It's very sad now we are at this closing stage," said a young shop assistant. "Because the news came in the run up to Christmas it was hard to find another job, but hopefully another opportunity will open up."
Administrators Deloitte said all 807 Woolworths stores would be closed by January 5. The corporate recovery firm confirmed the closures after failing to find a buyer for the business.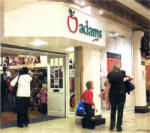 Another long established Lisburn shop, Adams, a childrenswear retailer in Bow Street Mall, is also suffering the effects of the global economic downturn.
Adams was bought out of administration last February by Northern Ireland businessman and retail entrepreneur John Shannon. After closing 42 of the branches, Adams began to show signs of improvement. However, the recent financial pressures led to the retailer announcing this week its intention to appoint administrators.
A spokesperson for Adams Childrenswear said: "The downturn in the High Street retail market and the general tightening of the financial markets has adversely affected the financial position of the Group. The Directors are currently working with its funders to resolve the situation."