Best boost for Conor's World Games campaign
by MARY MAGEE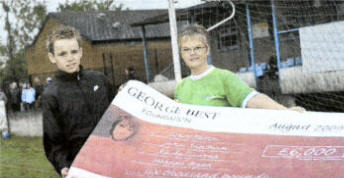 A CRUMLIN teenager who is representing Northern Ireland in the World Transplant Games in Australia this summer has been given a net busting boost by the Foundation set up in memory of the legendary George Best.
Conor Patton, who will be travelling down under in August to take part in badminton, long jump and the running events, received £1,500 from Barbara McNarry, George's sister, on behalf of the the Best Foundation. The 16-year-old is one of four teenagers given grants by the Foundation towards the cost of the trip.
The presentation was made at a fundraising football match between Crusaders and Glentoran legends held at Brantwood in Belfast. The match was organised by Chimney Corner Hawks, the youth team Conor plays for, and money raised from that will also go towards sending the young athletes to the Games.
Conor, from Tromery Drive, suffered kidney failure in October 2002. He spent four days in intensive care at the Royal and a further five weeks in hospital before he was allowed home and placed on dialysis. In February 23, 2005 he received a kidney donated by his father after tests showed he was a match.
At the Games, he will be competing in the 100 and 200 metres, the 100-metres relay, the long jump and badminton.
Barbara McNarry said: "We are only too glad to help Conor and the other young people taking part in the World Transplant Games.
"At the same time, it is a very sad and poignant reminder of George who, after his liver transplant, was looking forward to a healthy life without alcohol. But, like many other people, he was in the grip of the terrible disease that is alcoholism and it led to his death.
"The young people taking part in the Games have shown they appreciate that their transplants have given them a second chance of life.
"They have taken that chance by living life to the full and they can't be praised enough for their enthusiasm for sport."
Ulster Star
22/05/2009