You are important...
LOCAL MINISTER IS CONCERNED BY GROWING `SUICIDE CULTURE'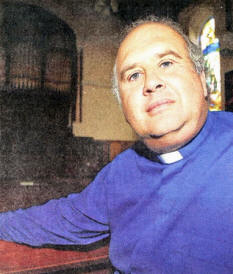 Reverend Brian Anderson of Seymour Street Methodist Church who is worried about the suicide rate in Lisburn. US3509-150A0 Picture By: Aidan O'Reilly
A LISBURN Minister says more must be done to prevent young people from taking their own life.
Reverend Brian Anderson of Seymour Street Methodist Church is worried a suicide culture is developing in the local community. "Due to the fact there have been so many incidents of young people taking their own lives, I am concerned a culture of suicide is growing within our community, said Rev Anderson.
The minister hopes to create a" platform for discussion" about the number of young people who, in the Greater Lisburn area, are "turning to suicide as a solution" to their many issues, and to "actually do something". "My own church, Seymour Street Methodist, has been the venue for three such funeral services over the last number of years, where the church has been filled to overflowing with grieving family and friends saying farewell to someone so special and yet so young. I know other clergy who have experienced similar tragic circumstances." The Minister explained that at the most recent service, for the "bright and bubbly" Catriona Irwin, he pleaded with those present that if they were feeling helpless and alone to "please, please find someone to talk with". He stressed that while these were carefully chosen words - "words alone are not nearly enough".
Mr Anderson said the question of why someone commits suicide is one of the hardest to answer. "A moment of madness, a cry for help, desperation, peer-pressure, I don't know. What I really struggle with is that all the young victims were fun loving, talented, generous, outgoing people, who had so much to offer. They had all made contributions within their families, society and through a variety of hobbies and interests. "It is too simple to blame it on drugs, alcohol, society or opportunity - suicide is a complex issue, but the information that comes from the Internet regarding the 'how to do it' does alarm me. This readily available information, combined with an upset mind and the possible culture I speak of, concerns me greatly for the future."
The Minister pointed out that he has no expertise in the area of suicide other than being a concerned person, "heartbroken for the tragedies that are unfolding before us".
He said that he is in no way critical of anyone involved professionally but feels more must be done for our "young people, with concerned parents, affected families, statutory bodies and voluntary groups coming together, alongside community representatives, to do something more".
"That's all I am trying to do - gather together the people in our community who are so very concerned about the number of young people taking their own lives, and try to open some new avenues in the hope of stopping others. We are clearly not doing enough.
"Let's as community say to our young people, 'You are important to us, you have so much to offer and we want your contribution within Lisburn to shine on.' Sadly, too many young lights are being extinguished far too early.
If you want to be part of this, then phone Reverend Anderson on 02892662303/ 07736715602. Email anderson662@btinernet.com or write to him at 35 Mount Royal, Lisburn, BT27 5BE
Ulster Star
28/08/2009