Lodges travel to Aghalee for Twelfth celebrations
by JULIE-ANN SPENCE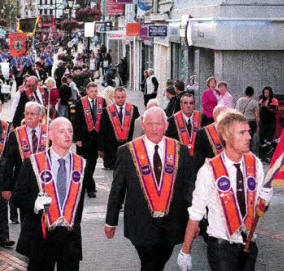 MORE than 70 lodges will be on parade in Aghalee for the South Antrim Combine demonstration next Tuesday.
Seven districts will take part — Lisburn, Glenavy, Magheragall, Hillsborough, Derriaghy, Ballinderry and Aghalee.
It is seven years since the parade was held in the village and a large crowd is expected.
The parade assembles on the Soldierstown Road at 11.30am and goes through the village up Aghalee Hill to the demonstration field on Chapel Road. Platform proceedings will begin at 2pm. A religious service will be conducted by the Rev. Robert Campbell, a Grand Chaplain of the Grand Orange Lodge of Ireland. A local minister, Rev. Charles McCartney will also take part.
Car parking facilities will be in close proximity to the Demonstration field at a cost of £5 per vehicle. The return parade will commence at 4.30pm. Feeder parades will be held across the Lisburn area
on Tuesday morning prior to the main parade in Aghalee.
Lisburn District will be walking through the city centre, starting at Lisburn Orange Hall in Railway Street at 8.45am. The parade will make its way through the city centre via Market Square, Market Street, Linenhall Street, Union Street, Gregg Street, Mercer Street, Sloan Street and Union Bridge to Laganbank Road, where the Lodges will board the buses for Aghalee.
The parade is expected to end at 10.15am, with a return parade beginning at St Pauls Church at 6pm. It will make its way back to Lisburn Orange Hall via Ballinderry Road, Longstone Street, Chapel Hill, Bow Street, Antrim Street, Bachelors Walk and Railway Street and is expected to end at 7.15pm.
There is limited space on the buses for members of the public to travel to Aghalee. Tickets for the bus are priced at £10 for adults and £5 for children under 16. For further information on the Lisburn parade or to book a place on the buses, contact Jonathan Beattie on 07759453292.
There will be a number of smaller parades in other parts of the city on Tuesday. Stoneyford Temperance LOL No 1253 will be holding a short parade in the village at 10am and in the evening at 5.30pm and Glenavy District will hold a parade in Glenavy at 9am and a return parade at 5.15pm.
Hillsborough LOL 288 will be parading in the village from 9.45am on Tuesday morning and will also hold a return parade at 5pm from Hillsborough Orange Hall.
Dunmurry True Blues LOL 1046 will be parading in Dunmurry at 9.30am and again at 6.45pm. Crumlin Lodges will be parading in Crumlin both in the morning and the evening and Maghaberry LOL 86 will be parading through the village at 8am and again at 5pm.
Police warn of traffic disruption
POLICE have warned of traffic disruption in Aghalee during next Tuesday's parade.
The parade will make its way from the Soldierstown Road along the Soldierstown Road, Helens Drive, Lurgan Road, Ballinderry Road and Chapel Road to the demonstration field.
The return parade will commence at 4pm from Chapel Road, Ballinderry Road and then to the Soldierstown Road.
Disruption can be expected along the route and traffic should avoid the area where possible.
Traffic in the greater Lisburn area is also being warned of disruption as 38 feeder parades make their way to the main demonstrations. Rolling road closures will be in place to facilitate these.
Police would ask that motorists to proceed with caution and be patient.
julieann.spence@ulsterstar.co.uk
Ulster Star
08/07/2011