A wonderful walk and a free meal - the perfect Mother's Day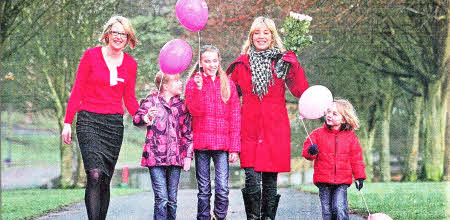 Tina Campbell presenter of UTV's The Seven Thirty Show, along with her children Charlotte (11) Sophie (8) and Ben (4) gets ready to launch Action Cancer's Mothers Day Walk at Hillsborough Forest Park. Also present is Lynsey Evans from M&S, Sprucefield.
ACTION Cancer has launched their Mother's Day walk in a partnership with Marks & Spencer at Sprucefield which will give everyone taking part a free two course meal.
Families are being encouraged to take part in the walk in memory of a loved one or friend who has been affected by cancer.
The registration fee is £10 for adults and £5 per child and this includes a free two course meal plus a glass of wine or soft drink for all participants in the M&S Restaurant at Sprucefield on Mother's Day, plus mums will receive a goody bag. All participants must try to raise a minimum amount of sponsorship of £45 per person.
The walk takes place at Hillsborough Forest Park and all proceeds raised from this walk will go specifically to counselling for children who have a parent with a cancer diagnosis.
Event Organiser Lucy McCusker said, This is a unique opportunity to get involved and do something a little bit different on Mother's Day to help your local cancer charity.
"Not only will you pass by some of Northern Ireland's most stunning scenery, but you'll be spending quality time with your family and taking in some fresh air at the same time. We hope to raise at least £5,000 towards our counselling services for cancer patients and their families, and want as many people as possible to take part and show their support."
At just under 1.5 miles long, the route is suitable for adults, children and even dogs are welcome, you can go round as many times as you like! There will also be a fun interactive game for all children taking part on the day.
The walk will start at 1pm on Sunday April 3. Registration takes place from the lower car park. There will be free car parking facilities at the park.
In order to take part you have to contact Action Cancer for a registration form and pay a fee of £10 and then just raise as much sponsorship as you can. You will then receive details of the sitting times available for your Mother's Day Lunch in Marks t Spencer at Sprucefield.
For further information on the event and to obtain an information pack. including registration form, map and sponsor forms, contact Amanda or Lucy on 9080 3349 or email asteele@actioncancer.org
Ulster Star
18/02/2011