Go over the top for charity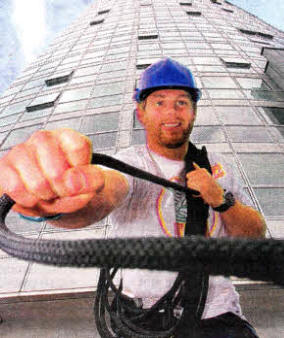 Ulster Rugby player Darren Cave gears up to launch an abseil event at The Obel - Ireland's largest skyscraper
ACTION Cancer, in partnership with Helping Hand, have announced the Obel Skyscraper in Belfast as the venue for their September abseil.
If you are looking for the ultimate high - why not join Action Cancer and Helping Hand on either Saturday September 17 or Sunday September 18.
All funds raised will go towards both charities.
Lucy McCusker PR & Events Officer Action Cancer explained: "The abseil is a really thrilling event to take part in and great for people of all ages. Everyone taking part shares the same goal - to achieve a fun adrenaline rush whilst completing a personal challenge and at the same time raise vital funds for our life-saving services."
Action Cancer services include early detection clinics for women, a mobile screening unit- the "Big Bus", grants for local research projects, counselling and complementary therapy for people living with cancer and their families.
Helping Hand is an independent Charity exclusively for "The Children".
By supporting Helping Hand, you will be helping to purchase vital new equipment to diagnose and treat young patients and to fund research into children's illnesses.
The excitement of abseiling down NI's highest skyscraper and the feel-good factor of raising funds for people affected by cancer will make this the experience of a lifetime.
Registration for the event is £35 and minimum sponsorship applies.
If you are interested in participating in this event to support Action Cancer contact Emma on 028 9080 3349 or email emcardle@actioncancer.org or to support Helping Hand contact Richard by emailing helpinghandrbhsc@btconnect.com or call 028 9027 8872.
Ulster Star
05/08/2011