Irene puts locals through their paces for Action Cancer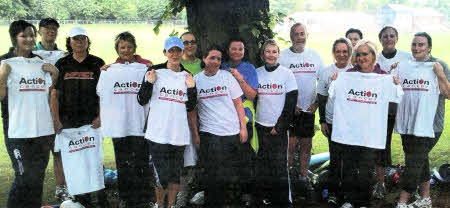 Participants in the Boot Camp in Wallace Park.
LOCAL Fitness Instructor Irene McCafferty put local people through their paces recently when she held a series of fitness Boot Camps to raise funds for Action Cancer.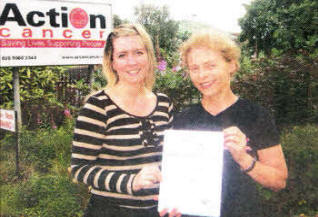 Moira woman Irene McCafferty receives a certificate from Lucy McCusker, PR and Events Officer from Action Cancer for raising £2,000. Irene organised two Boot Camps in June, one in Wallace Park and one in Lurgan Park. Participants all had to get sponsored to take park which helped raise the excellent sum of £2,000.
Irene, who lives in Moira, held a Boot Camp in Wallace Park and one in Lurgan Park in June, which saw participants rising early for a 6.15am start to their workout, with funds going to the local cancer charity.
A magnificent £2,000 was raised by the 25 participants in each camp for Action Cancer, which delighted Irene. She stated: "I was 'delighted with everybody who participated, everybody did very well.
"We held a week long camp from 6.15am until 7am and those who made it through the week received a T-shirt saying I survived Boot Camp'. Not everybody survived, but everyone did very well and we even had a couple of people who raised over £200 each. One person, Gillian Strong, collected £286 which is quite phenomenal."
Irene, who has been in the fitness business for 15 years, having previously been an aerobics instructor, held similar camps last year, which saw funds going to the NI Children's Hospice. However, her personal experiences led her to raise funds for Action Cancer this year.
Irene said: "Both of my parents died from cancer, as well as a cousin and a friend. I'm sure that is a story that most people could tell as cancer is quite common these days, so I thought it would be good to give something to this charity, it was all for a worthwhile cause."
Irene added: "I'd like to thank everybody who took part and thanks also to everyone who generously donated. Also I'd like to. thank the campers for their hard work and commitment to getting up early each day and coming along, they all did very well."
Ulster Star
15/07/2011