Grant to take Age on Stage to local homes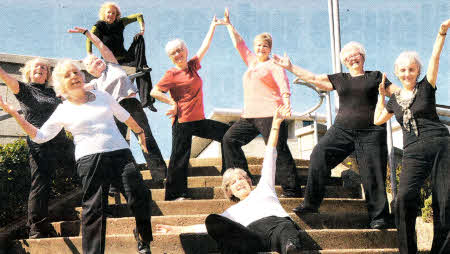 Age on Stage- Pic by Donnie Wright Photography
AGE on Stage', a contemporary dance' group for the over 60s, has been awarded £4,300 from the Arts Council of Northern Ireland's Arts and Older People Programme to develop an outreach programme in the Greater Lisburn area.
The work of Age on Stage encourages active aging through dance that is accessible regardless of ability, agility or mobility.
A team of Age on Stage dancers (Jean Hunter, Thelma Gardiner, Toni Sproule, Loreen Bell and Margaret Elmore) will visit residential and care homes bring their engaging dance routines to residents and encouraging active participation.
September sees Age on Stage enter its fifth year and this programme will allow
the group to introduce the enjoyment and benefits of dancing to those who are unable to attend its classes.
Age on Stage Chairman Jean Hunter said: "We are delighted that the Arts Council award will allow us to take a set of dance pieces, devised by our tutor Anthea McWilliams, into the community. These fun routines will show dance as an excellent means of keeping active both in body and mind."
If you would like to see Age on Stage in action, go along to Lisburn City Council's 'Dancing in the Park' in Wallace Park on August 20 from 2pm — 4pm, which will see the Group dance in the unique setting of the Bandstand.
Dance classes begin again on Friday September 9 at 11.30am, running for 14 weeks at the Island Arts Centre's Dance Studio. Participants, including complete beginners can come to one or all classes, no need to book, simply pay £3 per class on the day.
You should wear loose, comfortable clothing, soft/flat shoes and bring some water to drink. If you are over 60 years of age and would like to join in the movement and the fun, or indeed book the group for a performance please contact Anthea McWilliams on 07980 494 063 or Administrator Jane Waugh on 07889 039 520.
julieann.spence@ulsterstar.co.uk
Ulster Star
19/08/2011