Well known maternity consultant bids a fond farewell
by STACEY HEANEY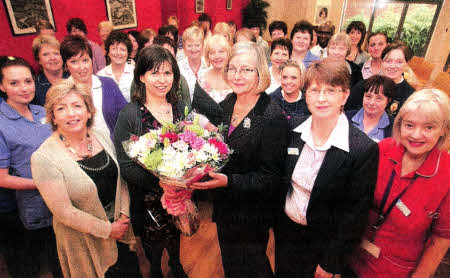 Dr. Alison Love, who is retiring from Lagan Valley Maternity unit, with staff at the hospital. US1411-102A0
WELL-known Maternity Consultant Alison Love has retired after nearly 20 years working at the Lagan Valley Hospital.
Alison, who first came to the hospital as a trainee and also worked there as a Registrar, is well known to many local mums, who have benefited from her expertise and care throughout the years.
Alison bid a fond farewell to life at the Lagan Valley last Thursday, March 31, as a special tea party and presentation took place for the local woman.
Recalling her time at the local hospital Alison said: "I have been at the Lagan Valley Hospital as Consultant for 17 years. I first worked at the Lagan Valley in 1982 for six months and throughout my training I was there from time to time, as well as my time as a Registrar.
"It has been great," she added.
Looking ahead to her retirement, Alison said: "I'm looking forward to being retired, it will give me the opportunity to do things I have put on hold, but I'm very, very sad to say goodbye to lots of friends and colleagues. It's a lovely place to work, but I live locally so I can still call in, it's not a permanent goodbye.
"I will miss the contact with the patients and mothers. It is a privilege to share such an important event in people's lives, it is a really special time and wonderful to be part of."
She continued: "I've got family so I'd like to see more of them now, none of them are in Northern Ireland, and I'd like to spend time with my husband. I want to stay involved in teaching as well. The Trust is linked to a hospital in Uganda so I am looking to go back there to do some teaching and work."
Alison's colleagues held a special farewell party for her last Thursday and a presentation to the popular member of staff.
Alison explained: "They held a tea party and there were speeches. I received lovely flowers and got the chance to speak to lots of people, they were really kind.
"I've had lots and lots of special moments throughout the years and you do get attached to to patients. I know there have been lots of very happy times but there have been some difficult times too. I'd like to thank all the people whom I have come into contact with throughout the years, all the medical, nursing, porters and ancillary staff, everyone I've worked with.
"It has been a real privilege, I've enjoyed every minute and I wish them well with the new Midwifery Led Unit, I'd like to see it well used, there is an awful lot on offer there. There has been lots of change but it is important people know they can still have their baby in the Lagan Valley."
stacey.heaney@ulsterstar.co.uk
Ulster Star
08/04/2011