Strewth mate, Ande just misses out on chance to visit Summer Bay
by STACEY HEANEY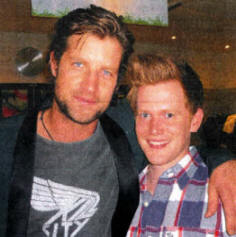 Lisburn TV presenter Ande Gray (right) with Axle Whitehead, who plays Liam Murphy in Home and Away.
LISBURN TV Presenter Ande Gray has narrowly missed out on his dream job of presenting a brand new documentary about Aussie soap Home and Away.
Ande, who was in the final five in the UK in the Bay Reporter presenter search contest on Channel 5, just missed out at the public vote stage.
"It was close, but even though I didn't win, the experience was just fantastic," said Ande, who found out the results Live on Channel 5 on OKTV.
Axle Whitehead, who plays Liam Murphy in Home and Away, flew to the UK specially to announce the winner. Ande, who presents BBC TV shows the Culture Club and Arts Live, said: "It was definitely a nerve wracking moment, but all in all I couldn't really complain, I got to hang out with the stars for a day — I even got a tweet off Axle the next day to say how cool it was hanging out with me. It was such a great opportunity, and hopefully more will come from it.'
Ande, a former pupil at Killowen and Hillsborough Primary Schools, has already moved head first into his latest project, as he will run summer training programmes and workshops giving people of all ages the chance to try out TV presenting, acting for film and live performance.
Ande explained: "This summer, the company I am a cofounder of - The Northern Ireland Studio of Television Arts Radio and Screen (NiStars) - is teaming up with a Belfast cinema to offer a. unique opportunity to people living around Northern Ireland. We realize there are a lot of summer programmes and schemes which offer the opportunity to do dancing and musicals and the like, but we wanted to try something a little different, and we think we have come up with a programme of events which offers something different to anything done before."
The summer workshops and events will culminate in one a red carpet gala event — where the summer's work will be displayed to the public in the Strand Cinema, Belfast.
The cinema started life as The Strand theatre and after being converted, it still has its original stage below its cinema screen — a stage which has been performed on by the likes of The Nolans, Van Morrison and many more.
"I think the gala evening will be very exciting, where people on the course get to show off their skills," said Ande. "On the same night we'll have performances on the stage, in between first showings of the new movies and TV shows produced over the summer."
Ande will also be running a TV presenting workshop in Lisburn on Saturday June 25, having had numerous requests from locals. There will be 20 slots available on a first come, first served basis. To book a slot simply email info@nistars.com.
Full details on the courses, dates and venues of the summer workshops can be found on www.NiStars.com or by finding Nistars on Facebook at www.Facebook.com/NiStars. Application forms available by emailing your name and age to info@nistars.com.
stacey.heaney@ulsterstar.co.uk
Ulster Star
17/06/2011