Young woman takes her own life hours after friend's funeral
by STACEY HEANEY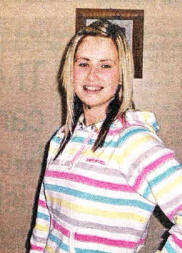 THE funeral of a young Lagmore woman took place last weekend after she took her own life just hours after attending the funeral of a sixth friend to die by suicide.
Andrea Toner, 21, died early on Tuesday, February 22 and was buried at Blaris Cemetery following a funeral service at Christ the Redeemer Church in Lagmore last Saturday.
The former Northern Ireland Under 16 Schoolgirl football international had just left the funeral of a friend, who had taken his own life and was buried on Monday, February 2J, when she was found by a passer-by in Twinbrook.
Speaking at Andrea's funeral, Father John Forsythe said her parents Karen and Hugh "did all they could to help her, in the good times and in the bad. They remember her as one with a heart of gold."
Fr Forsythe said she had many friends "who had been life-giving and good for Andrea," but that she had also become part of a much smaller group that were not good for her," and that she had begun to take drink and drugs.
He added that her death had left the people who loved her with a "sword of sorrow through their hearts." Andrea, who had recently completed a Self-Development course, was described by her mother Karen as "fun loving".
The former St. Louise's College pupil is said to have struggled with the deaths of so many friends, seeking help a year ago, when she was hospitalised for three weeks before she was released.
Mrs. Toner said she was "numb and angry" about the sudden death of her daughter.
Speaking to the Irish News, she said: "It's just like it's not happening." Despite her daughter's treatment last year, Mrs. Toner said she believed the aftercare Andrea had received was "inadequate."
"I know they say there is this and that," she said, "To me, there is no follow-up - or whatever's on offer, the kids don't find it comfortable because they are not going to it. "There needs to be a permanent drop-in centre where they can go. Maybe if people who had been through it, if they shared their experience, that would help."
Mr. Toner, who described his daughter as "bubbly", added: "We definitely need somewhere for the kids to go, no pressure or browbeating them.
"I was talking to some of her wee mates and they are distracted. Everyone who met her loved her."
Mr Toner said his daughter, from Altan Walk, had been affected by the deaths of friends who had taken their own lives and was feeling "very low".
"She had been through it so many times," he said.
"Whenever I brought the subject up she would say it was crazy, madness. Something needs to be done.
"That's why it is a shock that she has gone down the same road."
Suicide awareness support workers attended Andrea's funeral to speak with mourners and hand out helpline numbers.
The numbers were also printed on the back of the Mass booklet.
• Lifeline can be contacted on 0808 808 8000.
stacey.heaney@ulsterstar.co.uk
Ulster Star
04/03/2011