A life of service and Annabella is still going strong at 90 years old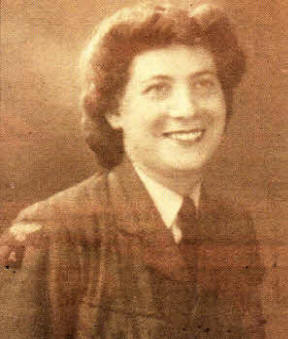 Annabelle Poots as a young WAAF in World War 2
ONE of Lisburn's best known voluntary workers, Mrs. Annabella Poots, MBE, is celebrating her 90th birthday this month.
Born in Saintfield, Annabella was the eldest of the sixteen children of David & Mary Jane Hanna. After service in the WAAF in the Second World War she married Robert Cairnduff and moved to Lisburn in 1947 where she and Robert ran the Windsor Cafe in Bridge Street, and the first ice-cream van in Lisburn, for fifteen years. In the same year, 1947, she also began her life of voluntary service and became a leading member of the Lisburn branch of the Royal British Legion for 30 years until 1978 when she was awarded the Legion's highest award, its Gold Badge.
Her work at the Legion involved looking after ex-servicemen's widows and she was proud to have carried the Legion's Standard for Northern Ireland during all her years with the organisation, including at the Queen's 25th Jubilee parade in 1977. During these 30 years she was privileged to meet the Queen and most members of the Royal Family.
For many this service to the community in Lisburn would have been achievement enough, but for Annabella it certainly wasn't. She has five children: her eldest son Sam lives in Belfast and two sons, Ronnie and Robert and a daughter Elizabeth, now live in England. Her other daughter Sylvia, was born in 1957 with Downs Syndrome, and has lived at home, until two years ago when she moved into supported living at the Prospect Home in Lisburn.
In 1962, when Sylvia became old enough to go to school there was no provision in the Lisburn area for people with learning disabilities. Not deterred Annabella and her husband Robert and four other sets of parents formed the Lisburn Special Care School Parents Association. Starting in a small room in Longstone Street, the fundraising and intensive lobbying led, eventually, in the early 1970s to the establishment of the Wallace Avenue Special Care School.
But this success was not the end of the story for Annabella and the other parents. They were confronted with a further problem. When the children reached eleven and twelve years of age there was nothing to do in the evenings. A meeting was held and it was decided to set up a Gateway Club in 1971.
The Club, which provides a variety of leisure activities and outings for the 100 or so members, is still a thriving concern.
Annabella served between 1971 and 1992 in various capacities; these included being Club Leader for four years, Chairperson, Treasurer, Northern Ireland Chairperson, and Mencap NEC Representative for a number of years after the Lisburn Society became affiliated to Mencap in 1978.
Annabella's other voluntary activities have included being organiser of Oxfam in Lisburn for eight years and, as a longstanding, active member of First Lisburn Presbyterian Church, she has also been an active helper in the Downtown Club for Community Care and still helps out with the provision of lunch and tea for the elderly and disabled members of the Club.
This wide-ranging voluntary work of Annabella, supported by her husband Robert Cairnduff, until his untimely death in 1977, and over the past 30 years by her second husband Sammy Poots, eventuality brought recognition, in 2003, with the award of an MBE.
In her 90th year Annabella is beginning, at last, to slow down and to spend more time at her caravan in Newcastle and with her growing family. She now has seven grandchildren and, to date, eight great grand children.
All of her children and some of her grandchildren and great grand children will be present at a family celebration of Annabella's 90 years, later this month. She is delighted, not only to have the blessing of her family and many friends, but also to have been able to have helped such a large number of other people in the Lisburn area and beyond.
Ulster Star
05/08/2011