Anne follows in father's footsteps with MBE
by STACEY HEANEY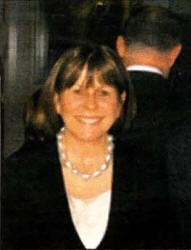 HILLSBOROUGH woman Anne Fenton has spoken of her pride in following in her father's footsteps after she was awarded an MBE in the Queen's Birthday Honours.
Mrs. Fenton, who is the Director of the Institute of Professional Legal Studies at Queen's University, was received the award for services to Legal Education in Northern Ireland.
Anne, who lives near Anahilt, said she was "absolutely thrilled" to receive the honour.
"I am really pleased and surprised" Anne said. "My father Tommy Steele was a Lisburn vet and he was awarded an MBE for services to Veterinary Medicine, so it is particularly nice to get one, it is nice to follow in his footsteps."
She continued: "It's a real honour and reflects on the work that the team at the Institute do. I have a great team whom I work with, although I am not going to let them pick the award up!"
Anne, who is married to Nicholas Fenton, of Conn and Fenton Solicitors, Lisburn, intends to collect her MBE with her family present.
"My daughter Felicity is a doctor and she is training to be a GP in England, and my son Jonathan is a doctor in Australia, so I don't know if he can make it, but Felicity and Nicholas will be there."
Anne was appointed Director of the Institute of Professional Legal Studies in 1998, and once
again she followed in some pretty big footsteps in the role.
She explained: "Mary McAleese was the Director here before me so it was a privilege to follow in her footsteps."
So, is the next step the Presidency of Ireland?
"No, I think I'll stop here," laughed Anne.
Speaking about her work, she said, "It is great to work with young people. It is an important role training the young professionals of the future, it is very satisfying.
"This is a recognition of a terrific team I work with at the Institute and I'd like to thank them for the support and friendship I've had in my time as Director."
stacey.heaney@ulsterstar.co.uk
Ulster Star
17/06/2011