Lisburn honours the armed forces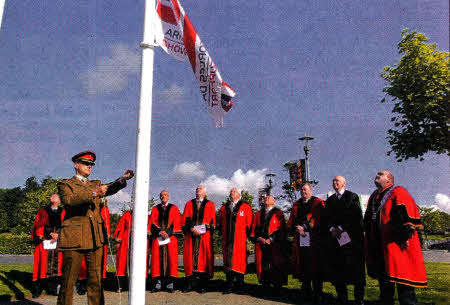 Lieutenant Colonel Jonathan Clarke, Station Commander, Thiepval Barracks, Lisburn, raised the Armed Forces Flag at Lagan Valley Island to mark the beginning of Armed Forces Week nationwide. Also pictured are the Deputy Mayor of Lisburn, Alderman William Leathem; Mr Norman Davidson, Chief Executive and Elected Members of Lisburn City
THE Deputy Mayor of Lisburn Alderman William Leathem has hosted a ceremony to raise the Armed Forces Flag at Lagan Valley Island to mark the beginning of Armed Forces Week nationwide.
Representatives of the Army, the Royal Navy and the Royal British Legion were present and Mr Leather said it was 'a privilege' to host the ceremony.
"The Council is a supporter of its local service personnel" he said. "Only last month it had the privilege of bestowing the honour of the Freedom of the City to the Royal Irish Regiment, which has recently served in Afghanistan."
Mr Leathem said they had gathered to commemorate "what our veterans have achieved, what our current troops are fighting to achieve and the opportunities and challenges which will be faced by future generations of soldiers who are willing to dedicate their lives to protecting us.
Appreciation
"By raising the Armed Forces Flag here at Lagan Valley Island, Lisburn is again showing its appreciation of all our service personnel and its support of the men and women who make up the Armed Forces community: from currently serving troops to service families and from veterans to cadets."
Lieutenant Colonel Jonathan Clarke, Station Commander at Thiepval Barracks raised the Armed Forces Flag at the ceremony. "Lisburn City Council recognises the dangers faced by those fighting battles on foreign soil and the loss of human lives and the infliction of serious injuries humbles us, in the face of such bravery, camaraderie, and dedication to duty.
"It is for these very reasons that the Council is proud to host receptions in honour of its local armed forces and their families," said Mr Leathem.
julieann.spence@ulsterstar.co.uk
Ulster Star
24/06/2011