Art on the Rails returns to city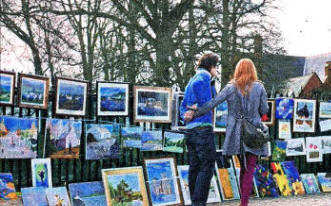 LISBURN Historic Quarter Arts Group is starting the 2011 season of Art on the Rails which will commence tomorrow (Saturday) at Castle Gardens.
This successful weekly market offers visitors the opportunity to purchase fabulous original artworks at affordable prices all created by talented local artists.
This ever-popular event runs from 11am-3pm every Saturday from April until the end of September. New artists, working in any medium are welcome to participate and no commission or hanging fees are charged.
Lawrence Chambers, local artist and Chairman of Lisburn Historic Quarter Arts Group, who regularly participates and sells his work at Art on the Rails, said: "This is a wonderful opportunity both for well established and emerging artists from the local area to display and sell their work at affordable prices directly to the public. It is also a great way for us as artists to meet and talk to the customers face to face, which an artist often never gets to do. Not only have I sold numerous pictures through Art on the Rails but it has given me great feedback and interaction with both buying and potential customers."
Councillor Jenny Palmer, Chairman of the Council's Economic Development Committee said, "It is always great to see the Art on the Rails season starting up in the spring time adding more vibrancy and activity to Lisburn Historic Quarter. We hope that shoppers and visitors will be encouraged to come along to Castle Gardens on any Saturday throughout the season and see the work on offer."
Councillor David Archer, Chairman of the Council's Leisure Services Committee, added, "Even if painting is only a hobby we would encourage artists to come along and display. The Community Arts Service organise a number of events in partnership with the Lisburn Historic Quarter Arts Group and are happy to support this opportunity to showcase the talents of our local artists."
For more information on Art on the Rails, or if you are an artist interested in participating, the please contact Tanya Kirk, Community Arts Officer, ISLAND Arts Centre, on T: 028 92 509509 or E: louise@island.lisburn.gov.uk.
Ulster Star
01/04/2011