Autism bill to make `huge difference' to Lisburn families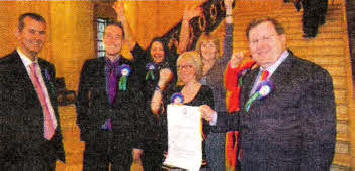 Minister Edwin Poots, and MIAs Paul Givan and Jonathan Craig celebrate with Claire Hughes, Anne Hayward, Arlene Hewitt and Paula McClinton.
MANY Lisburn families are set to benefit from the recent passing of an Autism Bill.
The new legislation, which was passed at Stormont last week, will broaden the scope of the Disability Discrimination Act to ensure that people with Autistic Spectrum Disorder fall within its anti-discrimination protections. It will also force all government departments to cooperate in devising and implementing a strategy for people with autism.
Lisburn mother Claire Hughes, who has two sons with autism, said the new legislation will ensure that people with all levels of autism and their families and carers can get a "fair" deal.
"Autism covers a spectrum of ability, taking in Asperger syndrome to very severe autism with accompanying learning disability" Claire said.
"The passing of this Bill is a very important step for people in our position. It will mean that people with autism are treated fairly and cannot be discriminated against. It will make a big difference to a lot of people."
It's estimated that more than 1,000 people in Lisburn are living with autism, many of whom have not been diagnosed. Claire paid tribute to her fellow parents and to local MLA Jonathan Craig and the All Party Autism Group of which he is a member, for their hard work in lobbying for the new legislation.
Government departments will now be required by law to develop an Autism Awareness campaign and strategies that work together as well as to share data which should be both more effective and efficient for present and future planning.
Mr. Craig said he hoped the changes would offer sufferers of Autism the same rights as others with a physical or mental disability.
"This will be most welcome by those who have lobbied for it and J was pleased to see many of them in attendance at the passing of the final stage," he said. " This Bill offers hope to many thousands of sufferers."
MLA Paul Givan praised those in the autism community who have taken this forward. He said: "They can take immense pride in having the Assembly pass this legislation. In my own area, I thank the Lisburn branch of Autism NI.
"When I have been out on the doorsteps, people have raised this issue with me, asked for my views and opinions and how I would vote on it. It is an issue that they have definitely brought to the public's attention, and we as political representatives have responded well to that."
Ulster Star
25/03/2011