Three days of fun for the price of one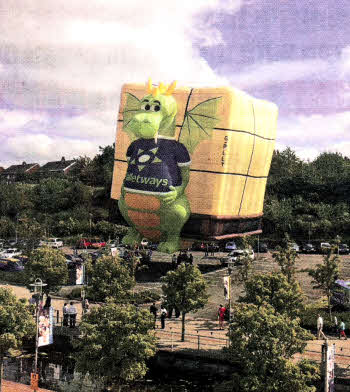 One of the balloons taking part in the International Hot Air Balloon Festival taking place from the 27th to the 29th August in Moira Demesne.
NORTHERN Ireland's first international Hot Air Balloon festival, which takes place from the 27th to the 29th August in Moira Demesne, is offering a special advance promotion.
Tickets purchased prior to the event, either online or at Lisburn or Hillsborough Tourist Information Centre, will get a three-day entry to the festival for the price of a one-day ticket.
Gates open for the three-day Bank Holiday event at 1:30pm next Saturday, 27th August with activities for the day coming to an end with a spectacular fire and light show at 9:00pm.
On Sunday 28th and Monday 29th August gates open from 1:30pm through to 10:00pm (Sunday) and 9:00pm (Monday).
For those early risers a morning mass flyout and ascent will take place at 6:45am on Sunday and Monday (with gates open from 6:15am to 9:30am).
The Mayor of Lisburn, Councillor Brian Heading, said: "This £10 ticket offer, where you are effectively saving £20 per adult, is amazing value. There is so much to see and do at this new and exciting festival and if you purchase your ticket before the event you have the option to come along for either one, two or three days, all for the same price.
"This thrilling event, the first of its kind in Northern Ireland, is sure to be a spectacular one with something for all the family. I would encourage those planning to come along to buy their tickets before the event to make sure they get the most from this great offer."
Alderman Jim Dillon, Chairman of the Council's Economic Development Committee, added: "The Hot Air Balloon Festival is sure to be an event not to be missed. With a packed programme of activities over the three days there is an abundance of things to do. As well as balloon ascents, there will be over 20 live music performances, an artisan food fair, beer marquee and a family fun fair to ensure everyone is catered for".
Event tickets are still available and can be purchased online from https://www.northernirelandballoonfestival.com/ If you purchase tickets at the gate the charge will be £10 per adult per day. Under 16s can enter the festival for free when accompanied by an adult.
For those who prefer to order tickets over the phone, or collect them in person, please contact Lisburn TIC on 028 9266 0038 or the Hillsborough TIC on 028 9268 9717.
Ulster Star
19/08/2011