Barn 'Back'
Group that brought grown men to tears back for Lisburn show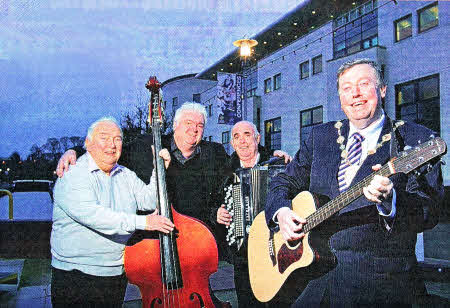 Barnbrack's Back! Mayor Paul Porter helps Barnbrack get ready to hit the stage for a special one-off reunion concert on St. Patrick's Day at Lagan Valley Island, Lisburn.The concert will be their first since 2003 and all proceeds will go to the Mayor's chosen charity 'Carers Forum on Learning Disability'
ULSTER'S finest trio, Barnbrack are set to hit the stage for a special one-off reunion concert on St. Patrick's Day at Lisburn's Lagan Valley Island.
Not too many songwriters can boast that they wrote a hit that drove people to tears. But Lisburn man Alex Quinn, one third of Barnbrack, is one of the guilty. His ballad, 'Belfast', which went round the world as a Barnbrack recording had strong exiles from the city crying in their beer and deciding to take a trip home. Their wives got all emotional for their old home town too and came with them.
It is a fact that Belfast the song did the airlines a power of good as folk who had been away for years made the pilgrimage back to familiar streets and to see friends.
Belfast was definitely the showgroup's best remembered piece.
But eight years ago when Alex's first wife Deirdre died at only 55, the group, whose other members are Jimmy McPeake and Owen McMahon, decided to call it a day and hung up their mikes.
Now however Belfast and other hits like Postman Pat, When I Was a Lad and You Never Learned to Dance, are about to echo out again as Alex, 59, and his group stage a comeback.
Alex has found love again with another Deirdre and has got a new enthusiasm for the music. "I'll never forgot my first Deirdre, she was special, but the new Deirdre whom I married four years ago helped me get over the grief," he explained. Barnbrack's first concert back will be at the Island Centre in Lisburn on St Patrick's Night when Crawford Bell will be there too.
"I never dreamed Belfast would get folk all moist-eyed," added Alex, "but it is a fact that many exiles who heard the original record in far away places couldn't wait to come home for a break.
"Our stage performance has a strong Ulster flavour. We even took our name after a favourite Belfast loaf even though Jimmy spelled it wrong when he wrote out our first poster. It should be Barmbrack, but Barnbrack stuck."
Barnbrack hit the headlines in 1984 with their first chart-topper Mickey Marley's Roundabout which is the tale of the little man who used to tour the streets of Belfast with his roundabout pulled by his pet horse.
Their homely, comfortable ballads caught the imagination of the public and turned Barnbrack into an in demand group and big sellers on more than 20 albums from the Emerald and Homespun labels.
But it's Belfast the ballad Alex wrote that will always be associated with the group named after a currant loaf.
That's Belfast, you call to me
When I am far away I think of thee
Your Black Mountain, Cave Hill, City Hall
Shaw's Bridge, River Lagan
I'm going home to them all.
Though I've left you with a heart that's been torn
I'm coming home now to the place I was born.
Join Barnbrack for an evening of song and craic on Thursday March 17.
The concert, organised as part of Lisburn City Council's Good Relations Programme, also features guest artists Gary Wilson, Crawford Bell and Yodelling Kenny Archer with the Colorado Band.
The 'Barnbrack's St. Patrick's Day Celebration' concert takes place at 8pm on Thursday March 17, in the Island Hall. Tickets are £15 each (or £12.50 concessionary rate) and can be purchased from the Island Hall Box Office Tel: 9250 9254 or online at: www.tickets.lisburncity.gov.uk.
Ulster Star
25/02/2011