Bertie's passion for boats lives on in floating museum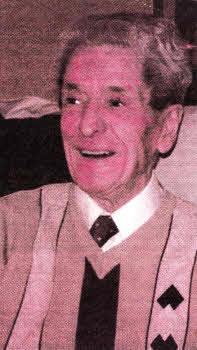 A LOCAL man whose passion in life was boats has been laid to rest at the age of 85.
Mr. Robert (Bertie) Bankhead, lived in Seymour Hill with his late wife Caroline since 1959. He and some friends helped set up the well known Ramblers Club and were instrumental in getting a bridge installed across the River Lagan a number of years ago.
Bertie had a great knowledge of the history of shipbuilding at Harland and Wolff where he worked as a boilermaker welder.
He wrote many newspaper articles about the Shipyard, including features on the Magdalena, which was the first ship built after the Second World War.
His daughter Heather said he was delighted to appear on television as well as be interviewed by Gerry Anderson and Walter Love about working on the Magdalena.
Charlie Warmington from the Lagan Legacy Barge spoke highly of Bertie and invited him to the Harbour Commissioners Office on Belfast, last October as one of the guests of honour because of his input into the Lagan Legacy - a barge which bears a precious cargo - the extraordinary story of Belfast's epic maritime and industrial past, told in a spectacular exhibition called The Greatest Story Never Told.'
If you go to the Floating Museum in Belfast you will hear a recording of Bertie speaking about one of the exhibits. Bertie will be sadly missed by his family and friends.
Ulster Star
08/04/2011