Lisburn gears up for `big role' in Circuit of Ireland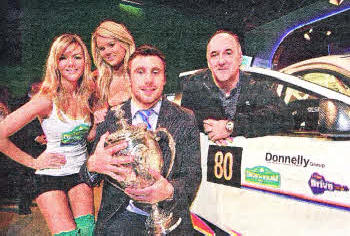 At the launch of the 2011 Circuit of Ireland Rally is Ireland winger Tommy Bowe and 2010 Circuit of Ireland champion Derek McGarrity with Rally fans Sarah and Laurina Kennedy.
LISBURN will play a significant role in the 2011 Circuit of Ireland Rally as it celebrates its 80th birthday this Easter Weekend - but fans will have to wait to hear what part the city will play.
Details of Lisburn's partnership with the Rally will be announced in the coming weeks and Councillor Jenny Palmer, Chairman of Lisburn City Council's Economic Development Committee, remained tight lipped about the involvement.
"What we've got planned for Lisburn will amaze rally fans and also herald a first for Rallying in Northern Ireland" she said.
"We are finalising details with the partner agencies and plan to make an announcement in the coming weeks which will bring thousands of Rally fans to Lisburn."
At the official launch last week, attended by Ireland and Lions rugby star Tommy Bowe, reigning Circuit champion Derek McGarrity and Irish Tarmac series winner Gareth MacHale, it was revealed that the 2011 event will work heavily in conjunction with Lisburn City Council.
The event starts on Easter Saturday (April 23) when thousands of rally fans descend on Armagh City Centre to see the drivers take part in the ceremonial start before undertaking the 16 competitive stages across the Orchard County, Down, Antrim and Monaghan.
Fans will return to Armagh on Easter Sunday to see their favourite drivers cross the finish line.
Event Director Bobby Willis hopes this year's Rally will be the biggest and best yet. Speaking at the Launch he said:
"This event first took place in 1931 and I am thrilled to say that 80 years on The Circuit of Ireland Rally continues to draw thousands of spectators.
"We are very grateful to have secured the incredible sponsorship of The Donnelly Group and with support from UTV Drive, Armagh City Hotel as well as Lisburn and Armagh councils I nelieve this year's event will be the best yet."
Ulster Star
04/03/2011