Blitz remembered at Maze event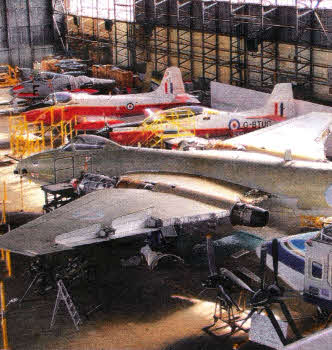 Historic aircraft and aviation memorabilia will be on display at a Blitz Commemoration at the Ulster Aviation Collection at Maze/Long Kesh- Pic by Ray Burrows.
A LISBURN fire engine from 1938, which saw action during the Second World War, will be part of a unique exhibition which will be held this weekend to commemorate the Blitz at the Ulster Aviation Society at the old Long Kesh airfield.
The society will be featuring a unique collection of historic aircraft and aviation memorabilia at the event, which will be open to the public from fpm to 5pm tomorrow (Saturday).
In April and May 1941, like numerous places throughout the United Kingdom, Belfast, Londonderry, Bangor and Newtownards experienced the horrific consequences of Luftwaffe air raids.
Belfast was bombed on four separate occasions, suffering the greatest number of deaths during the course of a single overnight raid on any city in the country - with the exception of London - when around 1000 men, women and children were killed during the raid of April 15/16.
To commemorate the 70th Anniversary of these tragic events and immediate aftermath, as well as the construction of the hangar occupied by the Ulster Aviation Collection, the Ulster Aviation Society will hold the special Open Day.
The collection, which includes historic aircraft and aviation memorabilia, is the largest in the country.
Second World War aspects of the collection will be emphasised, featuring a range of objects within the hangar, from domestic items such as a Morrison shelter and as masks to larger artifacts like the VI Doodlebug' and Wildcat fighter aircraft.
Northern Ireland's Battle of the Skies, the educational DVD produced by the Society, will be screened and The Swing Gals will provide some nostalgic entertainment.
Outside the hangar, heritage vehicles representative of the period will be displayed, including jeeps and several fire engines, one of which is Lisburn City Council's 1938 Dennis Light Four which was actually sent to Belfast to help deal with the consequences of the Blitz. A Bofors anti-aircraft gun will also be displayed.
Admission is £5 per car, irrespective of the number of occupants. Pedestrians will be admitted free of charge. Local support is welcome. Gates open from 1pm.
For further information please telephone 07974502319 or 07724896215.
Ulster Star
10/06/2011