High profile fashion retailer in line to replace TK Maxx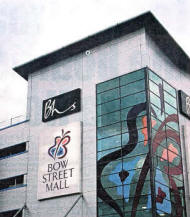 THE owners of Bow Street Mall say they are in negotiations with a 'high profile' fashion retailer to move into the centre when TK Maxx leaves on June 3.
TK Maxx, which has been in the Mall for nine years, announced two weeks ago they were pulling out of Lisburn, a decision they said they had made 'with regret'.
However the owners of Bow Street Mall say they are confident of securing a new tenant to fill the unit. The 24,000 sq ft unit was originally occupied by Tesco.
Michael Hopkins, from McKibbin Commercial, the managing and letting agents for Bow Street Mall, said: "Whilst the lease for this space is with Tesco Intl 2028 and TK Maxx were a sub tenant, we will work very closely with Tesco's agents to ensure this space is filled and the people of Lisburn can benefit from a great new retail offering.
"In the current market, it is important to have some flexibility and unfortunately TK Maxx felt it was too difficult to stay under Tesco's terms.
"However, we are confident that Bow Street Mall and Lisburn has a strong enough offer to attract
leading retailers.
"We are in negotiations with a high profile fashion retailer which does not currently have a presence in Lisburn and which would be a great addition to the city centre.
"Bow Street Mall offers a great location with footfall exceeding 5 million per annum and boasts a fantastic retailer line-up with great retailers so we are confident we will be able to fill this space very soon."
mary.magee©ulsterstar.co.uk
Ulster Star
03/04/2011