'HELP US KEEP BRIAGH'S LIGHT SHINING'
Helping charities will honour memory of a special young girl
Daughter who was always thinking of others
by MARY MAGEE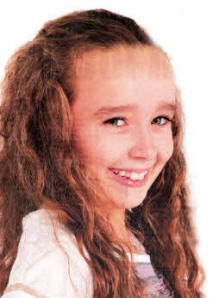 THE parents of a remarkable young Lisburn girl who was recognised for her selfless acts and helped raise funds for the Northern Ireland Cancer Fund for Children have asked people to honour her memory by continuing her good work and donating to a number of charities.
13-year-old Briagh Hull, who passed away last Wednesday from a rare brain tumour, was described by her family as 'caring, loving, giving and with a strong faith.' Briagh was a top fundraiser in her year group at her school, Wallace High, and received the Generosity of Spirit Award from the Richard Wallace Trust for her selfless acts. She and another pupil were selected to present a cheque for £5,013 to the Northern Ireland Cancer Fund for Children after her diagnosis in 2010.
Briagh was diagnosed with diffuse intrinsic pontine glioma, a rare brain tumour, last March. It was two months after the symptoms had begun to manifest themselves as Briagh began suffering from sporadic unexplained headaches. Much of Briagh's treatment was at the haematology unit in the Royal Hospital for Sick Children, Belfast and the Cancer Centre at the City Hospital, Belfast. At Easter this year her condition worsened and she passed away peacefully at home surrounded by her loving family.
Joe and Catherine are hoping people will honour the memory of their daughter who was always thinking of others by donating much needed funds to charities such as Shine a Light, Make a Wish and the Northern Ireland Cancer Fund for Children which gave the family much needed support and help throughout the last 15 months.
Catherine said: "Briagh enriched our lives beyond words and we were truly blessed to have her in our lives. Because these charities helped us and other families so much we would be honoured and truly humbled if people would donate to these worthy causes so that they in turn can continue to help others."
The charities made it possible for the family to go on memorable trips to Edinburgh in August 2010 and London in February 2011 where they saw the Lion King musical and various other concerts and shows throughout her illness. They also spent unforgettable times at Shimna Valley, run by the NICFC who are raising money for another building.
In addition to the charities Joe said: "The Royal Belfast Hospital for Sick Children is raising funds for a much needed MRI scanner.
They are the only children's hospital in the UK without a scanner and have started an appeal to raise £2m to purchase one".
Joe also paid tribute to the care from all the staff at both health care facilities.
Joe and Catherine, who have two other daughters Caoimhe (7) and Aoife (18), also said they are indebted to the staff, parents and children at Wallace High and her former primary school St Colman's in Lambeg for the care and support Briagh and the family have received.
Catherine said: "Briagh was a gentle caring child who was academically very bright with a great artistic talent who wanted to be an architect. She continued to help others throughout her illness and ensured that when our parish priest, Father Paul Byrne, came to see her he didn't get out of the house until she had given him her Trocaire box."
Joe continued: "She loved her family and her friends and absolutely loved school. She loved St Colman's and Wallace High and they were so very good to her. The care and the support they save her was second to none.'
The family were also deeply touched with the kind gesture of her friends who have set up a Facebook page in her memory. Joe and Catherine also wanted to thank their MacMillan Nurse, their GP and the community nurses from Warren, who cared for Briagh. Anyone who would like to donate can log onto their websites https://www.shinealightni.com/, https://www.make-a-wish.org.uk or www.nicfc.com
Ulster Star
24/06/2011