Magee returns to new arrival and eyes Froch rematch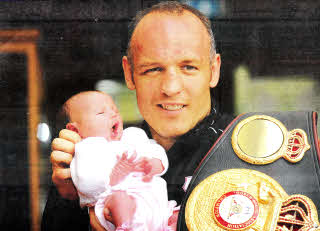 NICE TO MEET YOU...Lisburn boxer Brian Magee returned home this week with the WBA Interim Super Middleweight title and was greeted by something even more precious - his new daughter. Brian met five day old Darcey, who was born on Thursday July 28, for the first time when she was there to greet him when he flew home from Costa Rica on Tuesday. For more news on Brian see page 46. Pic by Stephen Hamilton/Presseye.com
LISBURN Boxer Brian Magee received the best welcome home possible this week when he was met by his five day old daughter Darcey, following his WBA Interim World Super middleweight title win over Jaime Barboza in Costa Rica last Saturday.
Darcey, who was born on Thursday, July 28, met her proud dad with her mum Catherine, when Brian returned home on Tuesday.
Speaking on his return home, Magee said: "It is fantastic to see my daughter for the first time and it was tough going away knowing that she was due to arrive the week of the fight. But it was worth it and I am just delighted to get back home.
"I would love to fight in Belfast again, but I will go anywhere to take on the best in the division," he added.
The local southpaw has said he is keen on a rematch with WBC world super middleweight champion, Carl Froch.
Magee saw off Barboza after an unanimous 118-110, 117-111, 116-112 decision.
Magee just had too much for Barboza and will now set his sights on getting a shot at another big fight with the big guns in the division.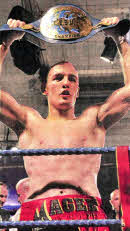 Lisburn boxer Brian Magee following his triumph in the European super-middleweight fight against Roman Aramyan at National Stadium,Dublin. Pic by Russell Pritchard / Presseye
Magee seems to favour a rematch with WBC title holder and possible Super Six winner Carl Froch.
"I am going to go home and let this sink in first. I will bring the belt home and spend time with the family. My manager Pat Magee will look at what is next," Magee said.
"With the Super Six coming to a close there are big opportunities in this division.
"There are big names and big fights for me out there. I think the one everyone wants and the one everyone is talking about is a rematch between myself and Froch.
"I have developed and improved since the last time we met and it is a fight that I really
believe I can win.
"If Froch still has a World belt and wins the Super Six I would be very interested.
"There are lots of options for me," he said.
He added: "I can defend this belt on a voluntary basis or I will fight the winner of the fight in August 26 between the two guys that are fighting for the regular WBA title.
"If that fight in the Ukraine does not take place then I could be made the regular champion.
"Either way I have loads of options at the minute and it is great to be back in Belfast with the belt.
"It is a belt everyone wants. I am also a top ten ranked fighter as well and that is the place everyone wants to be."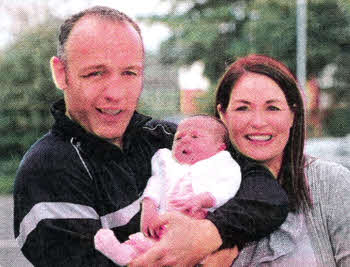 Lisburn boxer Brian Magee with his new daughter Darcey and his partner Catherine. Pic by Stephen Hamilton/Presseye.com
Brian's manager Pat Magee said they had lots of options after his fighter's victory.
"We are in a great position and people are calling us now looking to fight Brian, instead of the other way round.
"But the big name out there for Brian at the minute would be Mikkel Kessler.
"We could have the voluntary defence of Brian's title in Denmark in November against Kessler.
"By that time Kessler should be the WBO champion, so it would be a unification fight between the two of them.
"It would be pay-per-view in a few countries and there would be a lot of money involved.
"It would be a big money fight for Brian, but we will have to plot his path carefully, but we are in a great position," said Magee.
Ulster Star
05/08/2011