Local men swap their cabs for trainers
by MARY MAGEE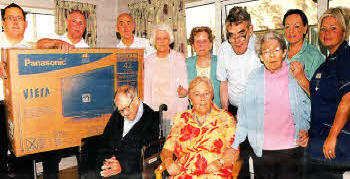 Taxi drivers Gareth Walker, Tony Brady and Paul Graham, from Premier Taxis, handing over one of two TV sets they purchased for residents at Drumlough House Nursing Home after raising funds by taking part in Lisburn's 1Ok fun run. US3311-523cd
FOUR taxi drivers swapped their cabs for trainers when they took to the streets to run the 10k Lisburn Fun Run and Half Marathon in Lisburn in June.
Paul Graham, Gareth Moore, Tony Brady, David Brown, who all work for Premier Taxis, took part in the run along with David's two daughters Molly and Keira, who did the 3k. Between them they raised £750 to buy two state of the art television's for the local nursing home, Drumlough House.
The televisions will be used in the communal areas of Drumlough House. Gareth, one of the company's directors, explained: "We only did the fun run specifically to raise money to purchase the televisions.
I do a bit of running but would not describe myself as a keen runner. I had not specifically planned to do the fun run but we wanted to do something to help Drumlough House and that seemed a good way to do it.
"I have an uncle, Willie Baxter, who was a resident in the home for two and a half years, while Paul has also a relative, Margaret Walker, who is currently in the home, so we know it fairly well.
"It was because of that family contact we decided we really wanted to do something. We spoke to some of the staff at Drumlough and asked if we were to raise money for them was there anything they needed.
"They told us that they really needed two flat screen televisions as they have been using old style 28" TVs.
"When we did the run we then went to JC Pattersons and when we explained to them what we had done they gave us a very good deal on the televisions, brackets and fittings when we explained the reason why we were purchasing the televisions. We were very grateful for what they did."
The men had only decided six weeks before the race to take part.
"We did a little bit of training. It is the first time we did the 10k run and we were very much egged on by Tony Brady who is a marathon runner.
"Because JC Patterson gave us such a good deal we have still £60 left for Drumlough House and we now have to decide what we are going to do with that.
"We want to buy them some sort of gift but we do not know what yet."
Ulster Star
19/08/2011