locals tread the boards at Opera House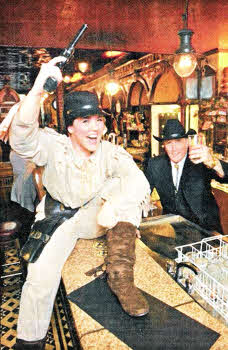 TWO local people will be treading the boards of the Grand Opera House later this month when they take on leading roles in Belfast Operatic Society's production of Calamity Jane.
24-year-old Alice Johnston, a P1 teacher at Lisburn Central Primary School, fresh from her triumph last year in her debut principal role as Belle in Disney's 'Beauty and the Beast', will take the title role of the feisty tomboy character who by the end of the performance is transformed into a lady of romance.
In addition to her teaching responsibilities, Alice is exceptionally active in musical activities which involves her leading the children's choir at the Salvation Army's Cregagh Road citadel in East Belfast plus playing in the band and singing with the songsters. She is also musical director at the recently established and growing Belfast School of Performing Arts, for kids up to 18 years old.
Alice first played the role of Calamity Jane as a pupil of Victoria College in Belfast which she said was a huge undertaking at that stage in her life.
"But performing this show in the Grand Opera House is an even bigger challenge and I am striving to make the role as true to the Calamity Jane everyone knows and loves," she explained. "She is fiery, energetic and jerky but beneath it all, she really does have what it takes to be loved. She has a soft side underneath the layers of masculinity.
"I am loving the challenge of the role and cannot wait to go to the Black Hills of Dakota in my buckskins on opening night."
Joining Alice will be Colin Boyd, managing director of Lisburn company Ward and Boyd and a lifelong member of the Lambeg Players, who will be playing the role of Henry Miller.
"Calamity Jane is one of the most popular shows to be staged in the past 50 years," said Colin.
"I believe that 'Calamity' being played by the outstanding talent of Alice Johnston will ensure that this production of this classical musical will rank among the best to grace the stage of the Grand Opera House. I am so looking forward to being part of it."
The fictional tale, loosely based on the supposed relationship between Calamity Jane and Wild Bill Hickock being played by Iain Mercer, is full of big musical numbers, comedy and some very entertaining dance scenes, delivering boundless energy and fun.
The show will be directed and choreographed by Declan Moore with Colin Scott as Musical Director.
Joining Alice and Colin in the highly experienced principal line up are Iain Mercer as Wild Bill Hickock, Paul Masterson as Lieut. Danny Gilmartin, Kirsten Magee as Katie Brown and Laura Kerr as Adelaide Adams. They will be backed by the chorus of the Belfast Operatic Company, which has the distinction of being winners of the Association of Irish Musical Societies Best Chorus Award at their Annual Oscars on a number of occasions, and an indeed the current holders.
'Calamity Jane' will be staged at the Grand Open House from March 15-19. Tickets ranging from £10.95 to £24.95 are available from the Grand Open House Box Office on 9024 1919 or book online a www.goh.co.uk.
Ulster Star
04/03/2011