End of era as eccentric vet passes away
by JENNY MONROE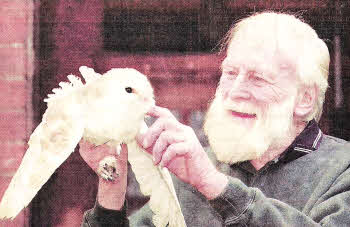 TRIBUTES have been paid to one of Lisburn's best known characters who passed away last Sunday.
Carson Archibald was best known for the eccentric manner in which he operated his veterinary business from his home in Park Parade in the City.
Carson, who died at the age of 82 following a brain hemorrhage, dedicated his life to treating animals after he graduated from Edinburgh University in his early thirties. Before this he had studied agriculture at Queen's University and spent time working on a banana plantation in Africa.
After qualifying as a vet he set up his first practice in Lurgan before re-locating to Harmony Hill in Lisburn and then to Park Parade in the 1970s.
Carson's partner of almost 35 years, Heidi Huttley, said he had been ill for some time after breaking his femur which left him an invalid. She said: "Even though he was in bed people still continued to call at the house wanting advice from him."
She continued: "He retired ten years ago after his career was brought to an end and to be honest he never really got over this. He was too trusting for his own good and a lot of people took advantage of this.
"He dedicated his life to animals and sacrificed holidays and other things to put the animals first. He even slept with the phone beside him and always answered it no matter what time in case somebody needed advice," explained Heidi.
"He didn't see any bad in anyone and wouldn't speak badly about anyone either. He was eccentric but he got good results.
"As well as domestic pets, people would bring strays and if he couldn't get out to farms, the farmers would even bring the animals to him. I remember us chasing a cow up the road after it got free. It never stopped. We could never go out for a meal without someone coming over to ask a question about their pet.
"The house was always full of animals. At one point we had more cats in the house than some animal sanctuaries."
Stepdaughter Mandy Jeggo described Carson as a gentleman who would be sadly missed.
She said: "He was very good to everyone but unfortunately some people abused his generosity and good will.
He had a great sense of humour and his knowledge was unbelievable."
Friend of Carson's Eric McClaughlin said he would be missed terribly. "He was a great man and a great vet who lived for animals."Carson was laid to rest at Blaris New Cemetery following a private service at his home on Thursday afternoon.
Ulster Star
15/04/2011