Castle Gardens wins four in a row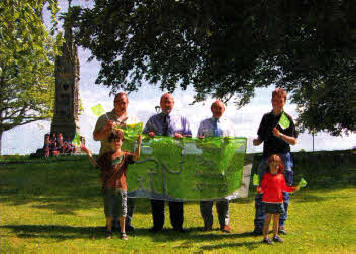 Pictured with the Green Flag which was recently won by Castle Gardens for the fourth time are: (l-r) Master Garrett Breathwaite; Mr. Phillp Simpson, Irish Linen Centre and Lisburn Museum; Mr. Colin McClintock. Director of Environmental Services; Alderman Jim Dillon, Chairman of the Council's Economic Development Committee; Mr Jonathan Baker, Park Ranger for Castle Gardens and Miss Eva Breathwaite.
CASTLE Gardens in Lisburn has again been recognised as one of the best green spaces in the country.
Castle Gardens, which are a key Lisburn City Council facility in the city centre, received the Green Flag Award, a sign to visitors that the park is well maintained and well managed, with excellent facilities.
Alderman Jim Dillon, Chairman of the Council's Economic Development Committee said: "The Council is very proud to have retained the Green Flag Award for this the fourth consecutive year. We hope it highlights to visitors that the gardens are well maintained and managed and that it is on a par with the best public parks throughout the rest of the country.
"Castle Gardens is a wonderful asset, rich in heritage, for the whole community to enjoy. Located within the Lisburn Historic Quarter it is visited by many groups and individuals throughout the year."
Mr. Phil Barton, Green Flag Plus Partnership Chairman, said: "I would like to congratulate this year's winners, who have worked hard throughout the year to keep their parks and green spaces at a high standard and ensure they are pleasant and enjoyable spaces for the whole community.
"The Green Flag Award Scheme, and its growth, is essential in driving up the standards of our parks and green spaces. Access to quality green space is something we all desire and the scheme plays a key role in providing it."
All award :winning sites now have the chance to receive a further award from the Green Flag Plus Partnership, the People's Choice Award.
This award is voted for by the public, so if you want to see Castle Gardens voted as the People's Choice then log on to https://www.keepbritaintidy.org/GreenFlag/GreenFlagAwardSites/Northernlreland/Default.aspx?parkID=478t.
Ulster Star
12/08/2011