Gift of life for Lisburn mum
Cathy comes through six hour life-saving heart operation
by JENNY MONROE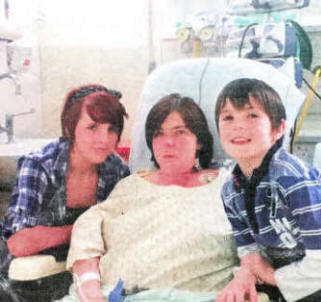 Cathy McCracken recovering after her heart transplant with her daughter Sarah-Louise, and son Daniel.
A LISBURN mum has been given the best birthday present ever - the gift of life.
Cathy McCracken is recovering in hospital in Newcastle-upon-Tyne after receiving a new heart.
The mum of two underwent a life saving operation which took six hours at the Freeman Hospital just two days before her birthday and wedding anniversary.
Her overwhelmed husband Les said: "I am delighted Cathy has been given this chance. We're looking forward to her getting her life back and being able to do what she wants to do. She can't wait to go shopping and do things people take for granted like a push a trolley.
Cathy was diagnosed four years ago with dilated cardiomyopathy — a disease of the heart muscle causing it to become so weak and enlarged that it cannot pump blood effectively. Tragically the same condition claimed her mother Carol's life at just 36.
She was told last year by doctors that she needed a heart transplant and her case was so urgent she would not be able to leave the hospital until a new heart was found.
Getting the necessary treatment to keep her alive has meant being away from her husband and her children 18-year-old daughter Sarah-Louise, and son Daniel, 8.
Les says Cathy is making a remarkable recovery and was delighted to be able to bring his children to see their mother on Tuesday.
"She's very overwhelmed and emotional right now - we all are. I'm so proud of her and I can't thank the whole team around her enough. They have been phenomenal. It just shows you how important organ donation is. While we are delighted for Cathy it is obviously a sad time for the family of the donor and my thoughts are with them but they have made the ultimate sacrifice and given Cathy the gift of life - something I can never thank them enough for."
Les continued: "I really hope this encourages more people to join the donor register, Cathy is living proof of how the system works.
Its still early days but I am so proud of Cathy - she is a remarkable individual."
To sign up to the NHS Organ Donor Register, text SAVE to 84J18, telephone 0300 1232 323 or log on to www.organdonation.nhs.uk. There are currently 287 people in Northern Ireland waiting for a transplant — eight of whom are children. On average, adults wait 184 days for a heart. About 1,000 people die every year in the UK while they are waiting for an organ transplant.
Ulster Star
15/04/2011