Cecil is bowled over by MBE
by GARY ELLIS and MICHAEL BOWDEN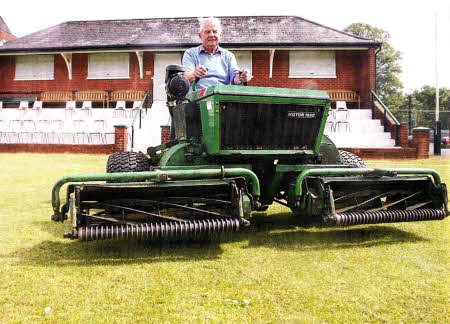 Cecil working at the crease this week.
LISBURN cricketing legend Cecil Walker can thank his late father Fred for guiding him into the sport of cricket which had played such a huge part in his life and has now brought him an MBE in this week's Queen's Birthday Honours List.
The Lisburn man has won many accolades over his 65 years involved with cricket both here and overseas, but his award at the weekend is the icing on the cake.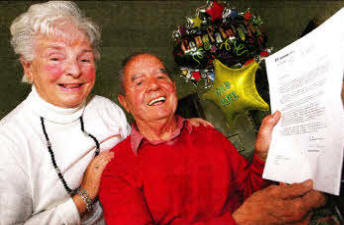 Cecil and Sylvia Walker with news of the MBE.
"I was contacted back in April, but to be honest I thought the letter was from the Inland Revenue and it was only when my wife Sylvia noticed it had a mark on it from the Cabinet Office that I realised it might be very important," explained Cecil.
"I was very surprised because I'm more yesterday's man and at 78 I did not expect an MBE. I have been out of the Irish scene for almost 15 years and never thought this would come along, but I'm really thrilled and honoured for my family and for Lisburn Cricket Club, especially as this is our 175th anniversary year.
"I joined Lisburn in 1944 - my father Fred told me I had to go along because I had been breaking too many windows playing cricket in Ivan Street and he said get down to Wallace Park. I remember getting the 10 shilling note and sixpence for joining and my mum said 'don't lose it because there won't be any more.'
"That's how it all started and I gained a lot of experience in the 1950's era with some great players around me and that helped me a lot and gave me a great grounding and appreciation for the sport."
Cecil was quick to thank all those who worked behind the scenes for this award. "Obviously a lot of people have been pressing and pushing the merits of my work for this honour and it has probably taken a few years to come to fruition. I want to thank them for all their efforts which are greatly appreciated, but while a lot of people believe I have devoted so much to cricket I can honestly say I have got more out of it than I put in.
"I can't forget the sacrifice too from both my wife Sylvia and daughter Gloria which has been enormous over the years and always been a great inspiration and support to me. They will join me along with my granddaughter Jill Patterson at Buckingham Palace when the big day comes along."
In a career of many highs, Cecil picked out some special events in the Lisburn Cricket Club history.
"My dream was to see the club expand and in 2002 the extension and ground improvements were realised. I suppose the return of the professional to local cricket since the Post War years was a major landmark which I feel helped transform our game.
"In 1977 we brought John Solankey from Glamorgan and he enjoyed a fruitful seven years at Wallace Park. Others followed, but he was the first and he made a big impact.
"Bringing the great Ian Botham to Lisburn in 1986 saw an amazing 3,000 tickets sold for what
was an unforgettable day. At that time Ian was banned from cricket and because of that our opponents MCC were unable to come over. We still went ahead and we had a challenge match with guest players and even to this day people talk of Botham in Wallace Park.
"Over the years I have always had a great working relationship with the City Council and I know they too played a part in this honour."
Cecil may have retired from office for many years, but he will never give up his work at Lisburn and you will always find him tending to the ground or out on the mower preparing for the next match. "I love to see the young players come along each year and have a go. I have watched five generations of them now and there is always a few who come through so to see their development over the years is very rewarding to me.'
Cecil is also a founder member of the Northern Ireland Branch of the Lords Taverners. "This charity is very close to my heart and since it was formed 15 years ago we have raised over £1m which has helped disabled cricketers and disadvantaged children."
Cecil's incredible career
Captain of the club for a record six times in the 60s and 70s winning the Senior League on two occasions as captain in addition to six Senior Cup medals and another league title as a player.
On his retirement from the game he began to concentrate his attentions on the administration of Lisburn C.C. and for the next 20 years filled almost every position available in the club. He acted as secretary from 1972 until 1986, was President for four years from 1994 and eventually became probably the only working Patron in 2002.
His work involving both clubhouse and ground extension changed the face of the club while his vision of reinstating the role of professional back to the club in 1977 was to prove a monumental step for Lisburn and for Ulster cricket in general. RecentIy he had a large part to play in installing the new artificial net complex which gave the club practice facilities second to none.
Cecil's administrative abilities were soon recognised and he became a leading light ín the Northern Cricket Union and later the Irish Cricket Union.
He became President of the NCU in 1985 in 1988 reached the highest accolade in cricket when he was chosen as President of the ICU.
During this period, he proved to be one of the game's greatest ambassadors and when his time in office was completed he served as Chairman of the Irish Cricket Union Development Strategy Committee.
In 2009 he received the pinnacle of awards with the International Cricket Council Centenary Medal which recognises outstanding work carried out by cricket volunteers throughout the world.
Back in his own club he was made a life member and in 2008 the Lisburn Cricket Club pavilion was named after him in recognition of his dedication to the club.
---
Praise for Cecil's MBE honour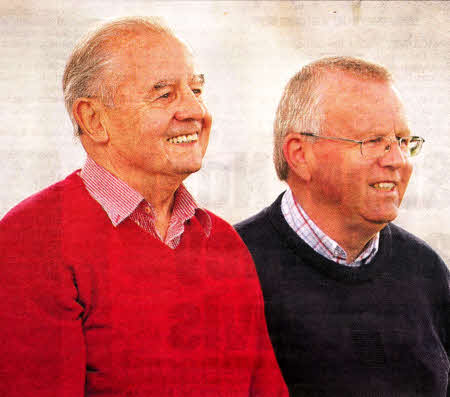 It was cricket as usual for Cecil Walker last Saturday as he watched Lisburn beat Carrick- Earlier in the day news for broke of his MBE award in the Queen's Birthday Honours List- He is pictured with club chairman Ian Ross- US2411- 523cd
DERRIAGHY extend their congratulations to Cecil Walker on the award of his MBE.
"Cecil has been a good friend of the club for many years and it is fitting that he is recognised in this way. We hope he continues to serve cricket in Ireland for many years to come," said a spokesman for the club.

Former Mayor of Lisburn Ivan Davis was also delighted to hear of Cecil's honour. "I was thrilled to
hear Cecil named on the Queen's Birthday Honours List. When we talk of sport Cecil Walker represents the very best that life and cricket can offer, those of us who are lucky enough to know him have always been touched by a man with unfailing courtesy and generosity," said Mr. Davis.
"The world of cricket is and has been full of very special people. Cecil has seen many changes in the game and he has made a major contribution to others enjoyment of the game, regardless of their level of achievement.
"The Walker family of course are well known for their participation in various sports and I have no doubt Cecil's late brothers and the late Reggie Blair would be proud of his recognition by the Queen."
Ulster Star
17/06/2011