Charity golf day raises £5000 for Ryan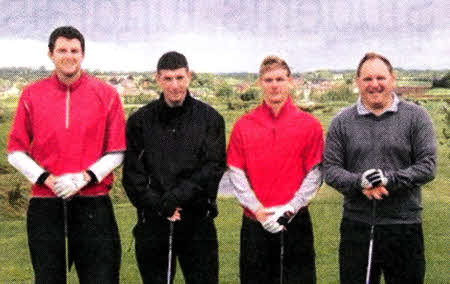 From left to right, Justin Sheppard, Roy Smyth, Andy Blakley, Lee Porter, team winners from Wesley FC.
THE Lisburn Junior Invitational Football League has held a Golf Charity Day at Down Royal golf course to complete a year of fundraising for Ryan Cinnamond and have handed over a cheque for £5,000 to Ryan's family after the special day.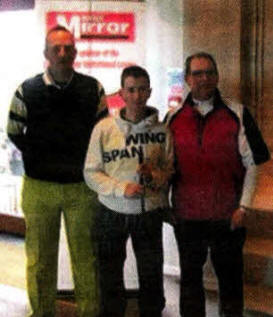 From left to right, Chris Budd (League official), Ryan Cinnamond, Stanley Sheppard (League chairman).
Ryan played football for Grosvenor Youth Under-16s in the local youth league, but shortly before Christmas last year he contracted an aneurism in his body which spread to his legs before the decision was made to amputate both legs to save Ryan's life.
Since the start of the year the 16-year-old has been bravely fighting in order to resume a normal life and he has been walking with the aid of calipers.
During the past season the Lisburn Youth League has donated money and received donations from referees and the South Antrim League, among others, but the golf day was a special event.
Around 20 four balls battled around the course amidst some torrential showers, spurred on by their desire to do something for Ryan in his personal battle.
Prize Winners were:
Team result: 1, Wesley FC (Lee Porter, Roy Smyth, Andy Blakley, Justin Sheppard); 2, Oxford Sunnyside; 3, Keith Baker Team; 4, Always Right (LJIFL officials); 5, Lisburn City Council.
Individuals result: 1, Mark Kelly; 2, Dessie Marley; 3, John Truesdale; 4, Glen Smylie; 5, Roy Smyth.
Nearest the pin: 3rd hole, Davy Armstrong; 11th hole. John Truesdale.
Longest drive: Mark Kelly.
Best dressed golfer: Shane O'Hanlon; Chris Budd.
Ulster Star
27/05/2011