Call for schools to do more to help children with diabetes
by MARY MAGEE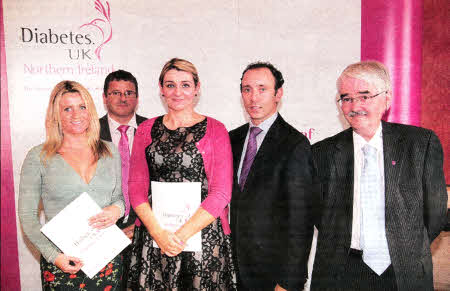 Pictured at the Diabetes UK launch of their Children's Campaign at Stormont is Vanya, parent of a child with Type 1 diabetes, lain Foster, National Director for Diabetes UK Northern Ireland, Aideen, parent of a child with Type 1 diabetes, Conall McDevitt MLA and Dr Peter Cunningham, Head teacher of Ceara school in Lurgan
A LISBURN woman has spoken about the problems her young daughter faced when she was diagnosed with type one diabetes.
Audrey Loughran spoke as Diabetes UK Northern Ireland launched a campaign urging schools to become more inclusive and supportive of children with the condition.
Launching their Children's Campaign the charity highlighted difficulties faced by children with diabetes in school.
This included the provision of lunchtime insulin injections to those of primary school age and discrimination in relation to school trips and extracurricular activities.
Audrey's daughter was just eight when she was diagnosed.
"My daughter has faced many problems that could have been avoided by basic simple training for teachers," she said. "Just because a child looks ok and is not in a wheelchair does not mean that they are not sick.
"My daughter had a teacher who was great when she was first diagnosed and she would communicate with me and I felt that I could talk to her."
However, if there was a sub teacher they weren't always aware Audrey's daughter had diabetes.
"That was a problem," she said. "Some teachers could not deal with my daughter's illness. I felt they were either afraid or just not informed and could not deal with her illness."
On one occasion she went to pick her child up from an after schools athletic event and was told she wasn't allowed to take part because of her illness. "I was really cross," Audrey said. "I knew straight away what was wrong. I had to explain that my child had diabetes and there was no problem taking part. The girl taking the class didn't know and should have been told."
When her daughter went to high school she faced other hurdles.
"She had to use her glucose tablets one time and a teacher shouted at her in front of the class for using them," said Audrey. "She must have thought she was taking sweets, but again she should have been told.
It really embarrassed her and she should not have been put in that position."
There were positive experiences too, like the classroom assistant who was there for another child but kept an eye on Audrey's daughter making sure she had the correct doses of insulin and getting in touch with her if there was a problem.
Audrey's daughter was also left out of things. She wasn't allowed to go on school trips unless a parent was there.
"That was a real issue with her," she said. " I agreed to go but she did not want her mum or her dad going so she missed out. She went the following year with her dad which was great and she really enjoyed it." At high school she was sometimes told off for being a few minutes late for her classes and she also had to deal with the short period of time between lunch and breaks which can be awkward for diabetics trying to control their sugars.
"A lot of the problems could be avoided if teachers got better training" Audrey said.
Diabetes UK Northern Ireland has urged the Education system to take diabetes seriously and encourage head teachers to find a solution to the benefit of all parties.
Iain Foster, National Director for Diabetes UK Northern Ireland, said: "While we accept that teachers have a voluntary role in administering medication there is an onus on schools to fully appreciate the duty of care they have in relation to a child and their access to education. A child whose diabetes is not effectively managed is at a disadvantage as their cognitive ability is adversely affected by too high or too low blood glucose levels. "The most recent guidance indicates that schools must be sympathetic to medical needs but our evidence tells us this isn't happening. Rather than turn a blind eye we are urging head teachers and Education and Library Boards to recognise there are problems and to work now to address these. Every child has a right to an education and the right to feel safe when they go to school.
"In terms of lunchtime insulin injections we would like to see, in situations where it is required, a system similar to that in Lincolnshire where Classroom Assistants receive a nominal fee to provide insulin injections at school. We would also like to see an immediate stop to unlawful discrimination which prevents children from taking part in all aspects of school life."
The launch event took place as part of the charity's activities to mark Diabetes Week and encourage debate and discussion about diabetes. Hosted by Conall McDevitt, MLA, the event brought together health and education officials and children and parents affected by the issues and was attended by Lagan Valley MLA Paul Givan.
Ulster Star
15/07/2011