Children's Art Festival at the Island is out of this world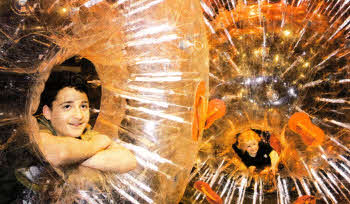 Having a ball at the Island Arts Centre Children's Festival
THE hazy days of summer can seem very long indeed if you are a parent or carer scrambling to find activities for the kids during the school holidays but the Island Arts Centre's Children's Arts festival is the perfect panacea to the "I'm bored" cries coming from households across Lisburn.
This years Festival runs until August 27 and celebrates a galactic Out of this World' theme.
While the Island's incredibly popular week-long Art Space Camps are sold out, young explorers can still book for the Out of This World Festival bite size workshops for 0-2 Yrs, 6-9 and 10Yr+.
Giant space orbs, futuristic pods and a free arts zone are just some of the activities on offer as part of the Island's 'Out of this World' drop- in play Children's Art Exhibition created by Artists Ngaire Jackson and Clare Lawson from Red Apple Arts.
Young explorers can become an instant Alien in the comical Gallery of Mirrors.
Equally enchanting are the Giant Kaleidoscope Wall Panels which will fill the galleries with bouncing colours and light.
Futuristic pod Storytelling areas and Space Activity Stations, all add to fantastical celebration of 'Out of this World' imaginary play.
Quirky
Free fun and full of the kind of quirky, spontaneous and top quality events parents can expect from the Island, it makes its easy to snatch precious family moments together.
Twinkle Twinkle Superstars on Monday, August 8 from 10.30am11.30am is the perfect introduction to creative play and the arts for your very tiny tots.
Enjoy a session of gentle movement and play with your little one against a backdrop of carefully selected music, nursery rhymes and props. Finished off with a boogie with your baby and a relaxation time out.
Or you can Walk Like an Alien on Saturday, August 6 from 10.30am-11.30am, where plenty of fun is guaranteed on this alien adventure.
You and your little one can enjoy interactive games and activities. Just bring a blanket or yoga mat to the class.
Space themed workshops allow for plenty of hands on creativity, the opportunity to make new friends and to use up their boundless energy.
To get your free copy of the new fantastic 'Out of this World' Children's Arts Festival brochure and start planning your festivities call 028 92 509509, email arts.info@island.lisburn.gov.uk or visit www.islandartscentre.com for more information.
Ulster Star
29/07/2011