Lisburn firm helps Christian bookstore to global success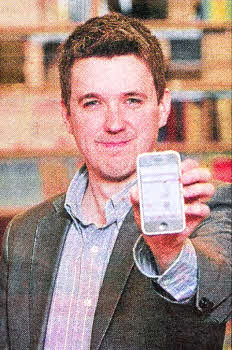 Alan Millar of Lisburn-based GCD Technologies
A LISBURN firm is helping a bookstore become one of the world's leading suppliers of Christian books.
GCD Technologies, has developed a website and iPhone app for ICM Books Direct which ships to countries including the US, France, Australia and Japan, in addition to the UK and Ireland, from its rural location near Lurgan, and expects the new e-commerce enabled iPhone app to help further boost global sales.
The firm is the first Christian bookstore worldwide to launch an iPhone app, having already tripled sales through its popular website in the last 12 months.
The app is one of the very first full e-commerce enabled iPhone apps to be developed by a Northern Ireland company.
Alan Millar of GCD Technologies says that the market for Christian books is enormous. "Christian books are a multi-billion dollar industry and there are tens of thousands of Christian bookstores around the world. Becoming the very first to launch an iPhone app is therefore really significant, and gives ICM Books a head start on its competitors."
He continued: "When the company was founded in the mid-1990s, it was a traditional bookstore selling used books, but it has grown to include a purpose built warehouse stocking over 10,000 Christian books and media, from where it distributes to tens of thousands of customers around the world.
"The company's business model is to provide a wide-range of Christian books at low prices to a global customer-base with the highest quality service, and the new iPhone app really supports this.
"Whilst the owner of the company doesn't even own a mobile phone, he realises the need to be innovative and to utilise online and mobile media to reach new audiences," he added.
What is an i-phone app?
AN iPhone app, or application, is what Apple calls software programs developed by other companies specifically for the iPhone and the iPod Touch- The applications can be downloaded directly by the mobile phone, or to a computer and transferred to the phone. An iPhone app may provide a number of different functions. Some are meant to show news, sports or weather information. Others are used to provide maps and perhaps even GPS services. The apps can be purely for entertainment, including games, or serve a more practical function.
Ulster Star
11/03/2011