Lisburn pupil shortlisted for UK writing award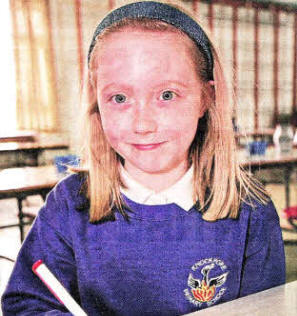 A LISBURN girl has been shortlisted for Amnesty International's Young Human Rights Reporter of the Year award.
Christina Cargill, 10, from Knockmore Primary School, will now be put forward for final judging — the result of which will be announced at a prestigious ceremony on May 19.
Nearly 600 children from across the United Kingdom entered the competition, which is being run by Amnesty International UK and Learnnewsdesk, the education arm of the Guardian website.
Christina wrote about fair-trade in Ghana.
James and Annette Cargill, Christina's parents, said: As Christina's parents, we are delighted and extremely proud of Christina. To make it to the last 10 out of nearly 1000 entries is a fantastic achievement."
Ruth Montgomery, Christina's teacher, commented: "Christina is a conscientious pupil who deserves this success. She has shown great enthusiasm in writing and particularly on this topic. The competition was a great opportunity for Christina to write for a real audience and she has my very best wishes for getting to the next stage of the competition."
Emily Drabble, the editor of Learnnewsdesk, was involved in the shortlisting process and added: "This was the best article in a bunch of brilliant articles from Knockmore. I liked the way Christina brought the issue alive by weaving in a case study. It's an impressive use of the 250 words limit. Well written and it is obvious that Christina understands and cares deeply about the issues."
Kate Allen, from Amnesty International UK, added: "We've been delighted by the response and it shows that there is a real interest in human rights across the generations."
The winner's work will then be showcased at Amnesty's annual Media Awards in central London in front of an audience of hundreds of the nation's top journalists on May 24.
They will also receive an Easi-speak MP3 recorder and mike, an Amnesty and Learnnewsdesk goodie bag, an Amnesty International 2011 Media Award, and a VIP trip to the Amnesty and Guardian offices.
Ulster Star
15/04/2011