Claire prepares to start a new life in Africa
by JULIE-ANN SPENCE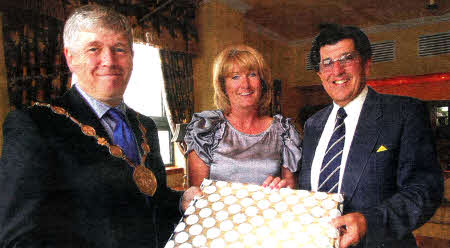 Lisburn Mayor Councillor Brian Heading and Bill Gardiner Watson Chairman of Lisburn YMCA at a Civic reception for Claire Hanna, former General Secretary of Lisburn YMCA who is moving to Africa. US3111-108AO
AFTER more than a decade as the General Secretary of the YMCA in Lisburn, Claire Hanna is preparing to leave her office for the final time and is travelling thousands of miles to become a teacher in Africa.
Claire, who has been in charge of the Lisburn YMCA since 1995, is to take up a post in a private school in Tanzania next month.
The former school teacher is leaving her post in just a few weeks and will be working for three years in Tanzania before spending a further three years in Kenya.
It was a difficult decision to leave," explained Claire, whose husband has already moved to Tanzania with his work. "I wanted to wait until the new school term was starting and will be moving at the beginning of September.
"The schools there are completely different. There is no legislation and children go to school if their parents choose for them to go.
"The schools are open from 8am until 5pm and there could be 60 children in the class. They walk for miles to go to school. The last time I was out I met a six-year-old who had a seven mile walk to school every day.
The school I will be teaching in will be English speaking and I am really excited about it. I have been over three or four times and I just can't wait to go back."
Although she is looking forward to her new life, she is also sorry to be leaving Lisburn YMCA. "I am really sad to be leaving Lisburn," she said. "It is a great place to work and there is a great sense of partnership here. "We sit on a lot of boards, including the SEELB, South Eastern Health Trust, Probation Board, Youth Justice Agency, PSNI and work with local schools. We have also had a lot of help from Lisburn City Council and I would like to thank everyone for their support over the years," she added.
juhieann.spence@ulsterstar.co.uk
Ulster Star
12/08/2011