Kenyan adventure for local artist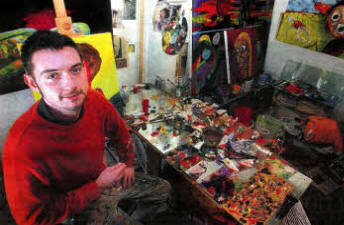 LOCAL artist Clinton Kirkpatrick recently packed up his art supplies and set off on a once in a lifetime adventure to Kenya.
Clinton, who has a studio in Lisburn and recently worked as a Culture and Arts Officer in Belfast, made the decision to travel to the slums of Nairobi to work with sick children and adults, who are mainly affected by HIV and AIDS.
As well as doing outreach work in the Fadhili community, Clinton will be spending his afternoons teaching art classes.
Speaking before he flew out to Kenya, Clinton explained: "I am heading to Kenya for six and half
weeks to do a placement working with the community there. I will be working every day from 8am until 3pm and then I will have three hours in the afternoon during which I hope to deliver a lot of art workshops." Clinton decided to take his art on the road and decided it was time to "go and do something different". He went on to explain: "I started doing a bit of research and I especially wanted to work with children and adults with HIV/AIDS. It all came together very quickly and I had just over three weeks to get ready to go."
Looking forward to his work in Kenya, Clinton continued: "I will be doing a lot of development and outreach work, making people aware of the situation and problems in that area.
I will also be working with young people, whose family can't afford to look after them or who are too sick. "I am hoping to use my artistic skills as well and will be doing art projects and workshops."
Clinton will also be working on his own art whilst in Kenya and is looking forward to discovering how the experience will influence his work.
"Regardless of the poverty, there are positives there as well," he added.
julieann.spence@ulsterstar.co.uk
Ulster Star
06/05/2011